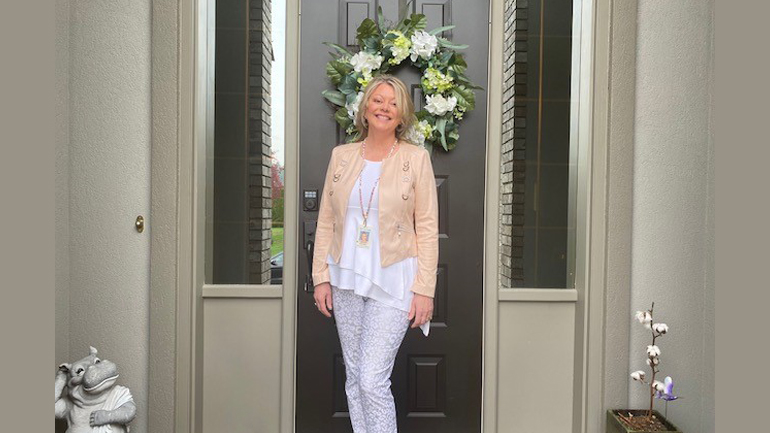 Indigenous Health Promotion and Prevention Nurse Stefanie Dafoe pursued her dream and encourages tomorrow's nurses to chase theirs.
Stefanie Dafoe knew that she wanted to partner with Indigenous Peoples to support health and well-being as soon as she graduated nursing school.
"I love working with people, making sure they're cared for and that they have everything they need to be healthy," Stefanie says. She brings this passion with her to her role as a Health Promotion and Prevention Nurse with Fraser Health's Indigenous Health program.
Stefanie first worked for seven years as a First Nation community health nurse with both Stó:lō and Sts'ailes Health Services before joining Fraser Health in 2011 as an Aboriginal liaison nurse. She has since held a variety of roles within the organization, including taking a key role leading its COVID-19 immunization response for First Nation, rural and remote communities.
She was instrumental in setting up vaccine clinics at Friendship Centres and within Indigenous communities, and now the program is permanently expanding to include all immunizations, education, prevention and promotion activities for First Nations and Métis Chartered Communities as well as other Indigenous organizations that serve the away-from-home community.
Stefanie will be administering the program's orientation and building out a team that will feature partnerships at the core of its work, including with our Regional Immunization Outreach team and Healthy Schools nursing program. It will also support communicable disease response and important workflow between the First Nations Health Authority's nurse support team and First Nations community nurses.
Stefanie approaches her work with a learner's mindset, always curious about the values and worldviews of the communities she provides services within. It's an approach that she says helps build Indigenous clients' trust in the health care system.
"You're not bringing your values, you're adapting them," she says, while also noting she tries to be compassionate, collaborative and a good listener. "You build healthy, strong relationships by always being there for people, talking with them and asking what's important to them."
According to Darlene Macdonald, district principal for Indigenous Education at the Abbotsford School District, Stefanie's person-centred approach helps community members feel supported.
"During the COVID-19 vaccination program, Stefanie was such an effective community partner and ally in creating safe and caring spaces that were culturally welcoming for our Indigenous community to receive their vaccine," says Darlene. "She was able to ensure that we created the best environment possible to support our community."
Stefanie is regularly invited to powwows, school and family dinners, events at Friendship Centres and the Abbotsford School District's Mamele'awt Indigenous Education Centre, which she has visited numerous times to provide immunizations.
"It always brightens up the event when Stefanie walks in smiling," says Spe'shelewet, Chris Kelly, district Indigenous support worker mentor for the Abbotsford School District. "Stefanie can show up just about anywhere if there is a need or opportunity to interact with the community. She exudes a calm demeanor and is quick to laugh. That smile has helped to support so many people."
As for the future of nursing, Stefanie is excited for new graduates who can choose from many roles within the health care system which didn't exist when she entered the field.
"There are so many different opportunities to be specialized. What do you want to do? It's achievable and can provide a rewarding career. Pursue your dream!"
---
We are highlighting and celebrating stories of nurses who provide exceptional, person-centred, compassionate care in celebration of National Nurses Week (May 8-14). Read other stories here.
Interested in a nursing career with Fraser Health? Visit our Careers page.