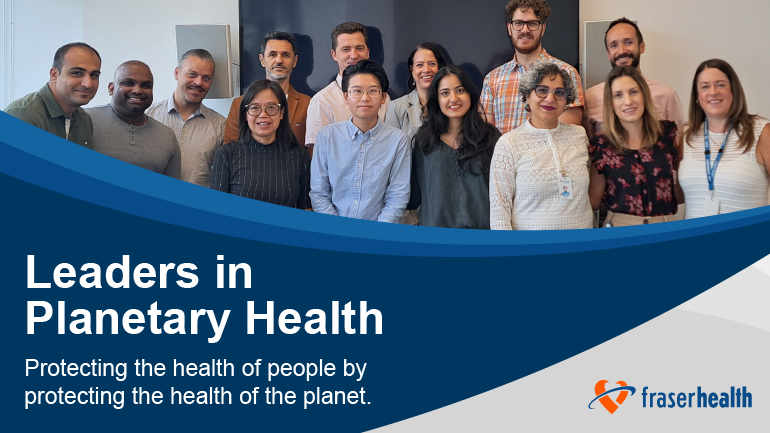 Fraser Health's major capital projects at Royal Columbian Hospital, Burnaby Hospital and the new Surrey hospital and BC Cancer Centre are being built with planetary health in mind.
Planetary health recognizes that human health and the health of our planet are inextricably linked.
"We have more than $5 billion in capital projects underway across our region, so it's important that our approach to building and renovating facilities supports our priority to improve planetary health," says Sharat Chandra, vice president of Strategic Capital Investments and Facilities for Fraser Health. "That's why we are careful to consider the environment and the impact on communities in our capital projects."
Royal Columbian Hospital's Mental Health and Substance Use Wellness Centre, which opened in 2020, was awarded LEED (Leadership in Energy and Environmental Design) Gold certification. This is a globally-recognized symbol of achievement in sustainable building design.
Burnaby Hospital's new patient care towers, Royal Columbian Hospital's Jim Pattison Acute Care Tower and the new Surrey hospital and BC Cancer Centre are all targeting LEED Gold certification. The new Surrey hospital will also be fully electric – a first in B.C.
To increase energy efficiency, these projects will feature advanced heating, ventilation and air conditioning systems that will also increase comfort for patients and staff. They follow the Climate Resilience Guidelines for B.C. Health Facility Planning and Design to prepare for climate hazards like extreme weather and warming temperatures. As much as possible, the projects also use sustainable and locally-sourced building materials and are designed with a focus on reducing greenhouse gas emissions.
Inside the new and upgraded facilities, state-of-the-art technologies will help reduce paper-based systems. At Royal Columbian Hospital, staff and medical staff are using new communications tools and patient tracking systems so they are familiar with the technology before the new space opens. All three of the major capital projects also support virtual health appointments so patients can receive care at home, further helping to reduce greenhouse gas emissions.
Green spaces and gardens with places to sit in the shade or take a walk will surround the new buildings. Outside Royal Columbian Hospital, the landscaping will evoke a riverbank to highlight the importance of the Fraser River to local First Nations, an approach developed in partnership with Indigenous communities through a collaborative working group. A new entrance and multi-use path at Royal Columbian Hospital will also improve connections to the local SkyTrain station to support the use of transit.
The redevelopment project teams also embrace planetary health at work. Last year, the Burnaby Hospital redevelopment project received a Fraser Health Innovation Grant to create a food garden to share and promote healthy, locally-grown food. The Royal Columbian Hospital redevelopment project team is dedicated to recycling and holds potlucks to build community. All of the projects support hybrid work models, which allow team members to work from home, contributing to fewer carbon emissions.
Learn more about Fraser Health's climate change and environmental sustainability initiatives at fraserhealth.ca/climate.