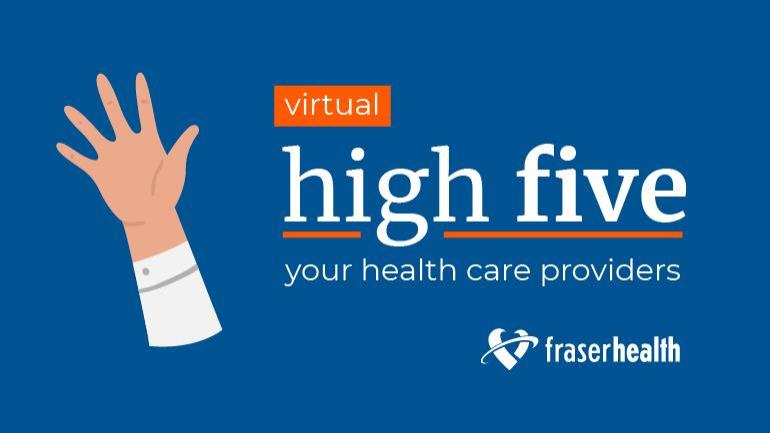 This week's high fives go to our amazing people at Abbotsford Health Protection Office, Abbotsford Regional Hospital, Czorny Alzheimer Centre, Eagle Ridge Hospital, Jim Pattison Outpatient Care and Surgery Centre, Langley Memorial Hospital, Royal Columbian Hospital and Surrey Memorial Hospital.
Want to send a high five to your health care provider or Fraser Health team member? Leave a comment below or send your thanks using our online submission form. Read more kudos at fraserhealth.ca/highfive.
---
For Abbotsford Health Protection Office
I wanted to express my gratitude to Licensing Officer Oana. Due to her understanding and encouragement, I have improved and feel much more capable. Thank you for going above and beyond.
---
For Abbotsford Regional Hospital
Nurse Cayla was an absolute standout when I visited Abbotsford Regional [Hospital]. She is incredibly sweet, smart and very good at her job. My heart is filled with happiness knowing she's there to care for patients.
---
For Czorny Alzheimer Centre
Thank you to the team at Czorny Alzheimer Centre for the outstanding care in the sunshine pod. Suki, Kimmie, Nev, Nero and Claudia provide top-notch care for their patients. Our family is grateful for the care our mother and other residents receive.
---
For Eagle Ridge Hospital
I wish to recognize Dr. Beheshti and his staff at the Rapid Access to Addiction Care Clinic. The care I received was excellent. Dr. Beheshti was friendly and kind while helping me through complex medical issues. Thank you, Dr. Beheshti.
---
Everyone was very helpful and we felt well taken care of by the staff. Thank you.
---
For Jim Pattison Outpatient Care and Surgery Centre
I recently attended an appointment at Jim Pattison Outpatient Care and Surgery Center. I appreciated the loving care and professionalism shown to me by all the staff I encountered.
---
I would like to thank the staff at Jim Pattison Outpatient Care and Surgery Centre. My experience from start to finish was efficient and friendly which made me feel safe and cared for. Keep up the great work.
---
For Langley Memorial Hospital
I visited the Emergency Department at Langley Memorial [Hospital] because I was experiencing chest pains. All the staff I encountered were kind, compassionate, efficient and professional. Thank you team for the great work.
---
For Royal Columbian Hospital
My family and I wanted to reach out to share the amazing experience and care my mom received during her visit to Royal Columbian [Hospital]. Dr. Paletta created an effective care plan suitable not only for my mom's medical condition but also a plan that was appropriate for her age. We were so impressed. Thank you.
---
All of the staff in the Pulmonary Rehabilitation Program are fantastic. The program was easy to follow onsite and replicate at home, allowing me to gain strength and stamina. Their attitudes were always positive and encouraging. Thank you.
---
For Surrey Memorial Hospital
Thank you to the staff at Surrey Memorial [Hospital]. Dr. Cheyne provided exceptional care and reached out a few days later to follow up. I was impressed with his empathy and professionalism. Thank you.