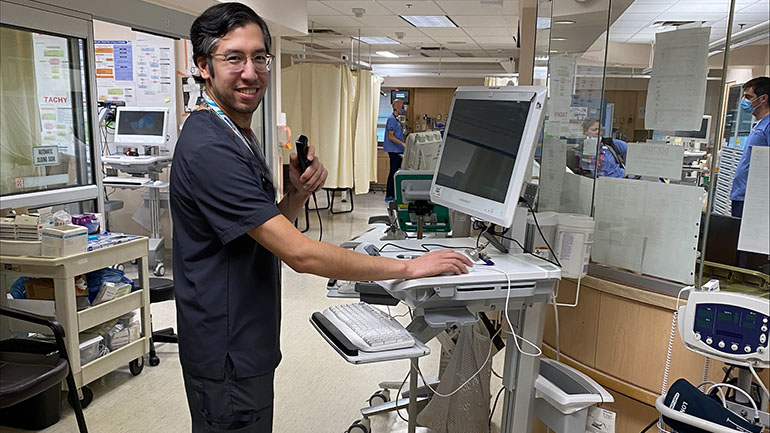 Read about the benefits of digital workflows in health care.
In the ever-evolving health care technology landscape, workflows that involve paper and manual processes are undergoing a transformation with the integration of MEDITECH Expanse and Fluency Direct, Front-End-Speech-Recognition (FESR).
Dr. Stefan Patrascu, a family and emergency physician, recounts the recent Advance Program implementation at Fraser Canyon Hospital and how Fluency Direct helped improve efficiency and patient care.
Ahead of the curve
Fraser Canyon Hospital took a proactive approach by using FESR early on. This ensured staff and medical staff were adept users prior to implementing Advance, reducing the training burden and ensuring a smoother transition when the program went live.
"I advise my colleagues to complete the FESR training and start using it early. Managing multiple changes concurrently, such as transitioning to MEDITECH Expanse and adopting dictation, can be challenging. Streamlining the process with FESR training first ensures a more seamless experience."
A game changer
Amidst the fast pace of a bustling hospital, tools like FESR become invaluable. Dr. Patrascu emphasizes that retrieving vital patient data in the past was cumbersome. Now, with MEDITECH Expanse, essential information is readily accessible, enhancing the quality of patient care.
Benefits to enhance the provider experience
According to Dr. Patrascu, FESR's flexibility and efficiency in starting and stopping dictation, whether using a handheld or a mobile microphone, offers a significant advantage. This feature empowers providers to multitask more effectively.
"I prefer to use the mobile microphone as it allows me to move around more easily. I can pause dictation and speak to my patients or nurses and then resume dictating when I'm ready."
Celebrating success
Fraser Canyon Hospital's success story illuminates the positive impact of embracing new digital technologies and fostering collaborative efforts between the hospital and the Advance Program. Dr. Patrascu expresses gratitude for the team's instrumental role in implementing transformative health care technologies.
Thank you to staff and medical staff across Fraser Health who are shaping a future where technology and compassionate care go hand in hand.