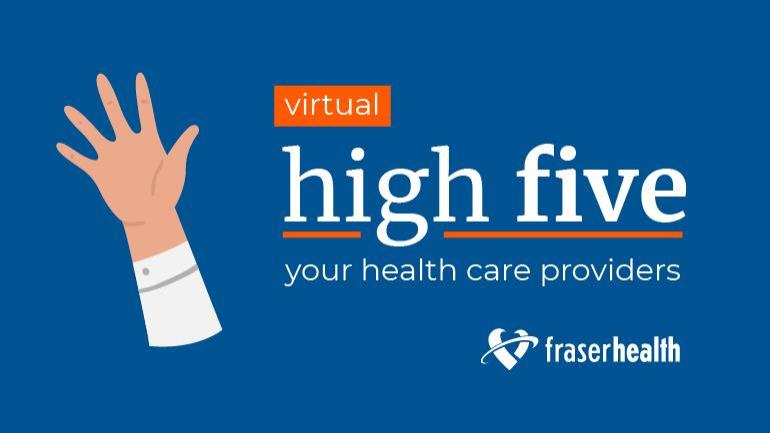 This week's high fives go to our amazing people at Abbotsford Regional Hospital, Burnaby Hospital, Delta Hospital, Eagle Ridge Hospital, Langley Memorial Hospital and Port Moody Urgent and Primary Care Centre.
Want to send a high five to your health care provider or Fraser Health team member? Leave a comment below or send your thanks using our online submission form. Read more kudos at fraserhealth.ca/highfive.
---
For Abbotsford Regional Hospital
I spent three weeks in Abbotsford Regional [Hospital] for post-operative care. Thank you to all the staff who cared for my needs throughout my stay. I only have praise for their professionalism and patience. My wife and I left feeling as if they were family.
---
For Burnaby Hospital
I want to acknowledge the high level of medical care and professionalism I received at Burnaby [Hospital]. Thank you to Dr. White, Dr. Lau and Nurse Katie. Dr. Lau explained the nerve block and freezing procedure and Dr. White reviewed the steps he would undertake. I appreciated the clear post-operative orders and prescriptions.
---
I just wanted to send a quick bit of gratitude and appreciation to the emergency room staff who assisted me with a sprained ankle. From the first person to greet me in the waiting room to the various staff who helped process me and give me an X-ray. The staff were incredible, and I wanted to acknowledge their efforts and professionalism. Thank you for everything.
---
For Delta Hospital
Thank you to the staff member working in the lab who went out of her way to help me out. Although my requisition form was not sent due to an error by my doctor's office, once they received it, the lab assistant looked up my phone number and called me at home to have me return. Great work.
---
For Eagle Ridge Hospital
I recently had my gallbladder removed at Eagle Ridge [Hospital]. I can't say enough wonderful things about the staff and medical staff. Everyone from registration to the anesthesiologist, the surgeon, the care aides and the nurses were absolutely incredible. I felt well cared for and safe in their hands. Thank you.
---
I attended Eagle Ridge [Hospital] for an outpatient procedure. My visit commenced with a cheerful welcome by a staff member at a kiosk who helped me to a wheelchair and subsequently assisted me through the registration process and ultimately to the outpatient clinic. Thank you.
---
For Langley Memorial Hospital
I visited the Langley Memorial [Hospital] for a cortisone shot. Nurse Kelly was professional, upbeat and kind. She was thorough as she went through what was involved in the procedure. Dr. Wong was fantastic and thoroughly explained what to expect and the procedure. It was painless – thank you.
---
For Port Moody Urgent and Primary Care Centre
I received the best urgent care at Port Moody Urgent and Primary Care Centre; high marks to all the staff. Thank you to Practical Nurse Alan for his concern and willingness to listen to my symptoms. Thanks again.
---