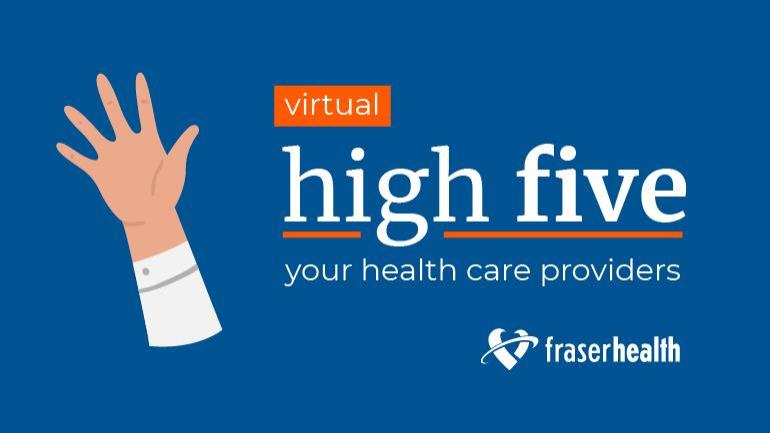 This week's high fives go to our amazing people at Abbotsford Regional Hospital, Langley Memorial Hospital, Mission Memorial Hospital, Surrey-Newton Urgent and Primary Care Centre, Peace Arch Hospital and Royal Columbian Hospital.
Want to send a high five to your health care provider or Fraser Health team member? Leave a comment below or send your thanks using our online submission form. Read more kudos at fraserhealth.ca/highfive.
---
For Abbotsford Regional Hospital
I would like to recognize the staff in the Mammogram Department. They are the greatest team I have ever had the privilege of encountering. They are kind, caring, empathetic and embody patient-centered care. I could not pass on recognizing them. You should be very proud of this group of health care providers.
---
For Langley Memorial Hospital
I recently had a colonoscopy procedure at Langley Memorial [Hospital]. Dr. Chhoa and Nurse Melanie went the extra mile to explain the procedure and help me relax. Thank you.
---
For Mission Memorial Hospital
Thank you to Nursing Assistant Alexie, who treats patients with dignity, respect and care. Our family and friends feel assured knowing he is providing excellent, compassionate care to our loved ones.
---
For Surrey-Newton Urgent and Primary Care Centre
Nurse Practitioner Harneet was exceptional. She helped me deal with my stress and blood pressure challenges. Nurses Heidi and Jesse and Medical Office Assistants Aman, Kiran and Komal always take the time to explain procedures, help whenever necessary and smile. I appreciate this professional, family-like team. Thank you.
---
For Peace Arch Hospital
I was thoroughly impressed by the level of care and kindness my husband received while getting tests and treatment at Peace Arch [Hospital]. Everyone was friendly, efficient and gracious and provided a warm community feeling. Thank you to all the wonderful staff; you truly make a difference.
---
For Royal Columbian Hospital
I recently had a knee replacement at Royal Columbian [Hospital]. All the staff, from registration to post-operative care, were excellent. I felt very safe and in good hands. Thank you so much.
---
I would like to thank Dr. McFetridge, who provided excellent care and guidance during my recent visit to Royal Columbian [Hospital]. Thank you to Nurse Simon, who went above and beyond to get me to my ultrasound appointment, and to the ultrasound tech and supervisor for being kind and helpful.