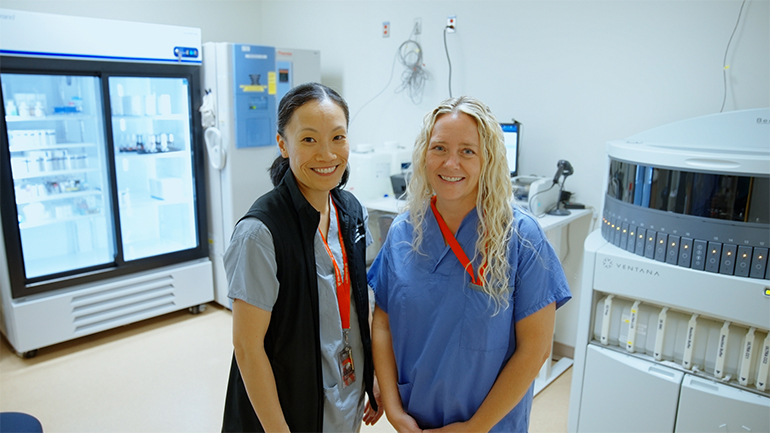 Tania Gardner will never forget the phone call on her 46th birthday.
"My doctor told me I needed an urgent breast biopsy," says the medical laboratory assistant.
Results confirmed Tania had breast cancer. She waited three more weeks waiting for further testing to reveal whether her tumor expressed human epidermal growth factor receptor 2(HER2), a protein found on the surface of cells that may cause cancer to grow quickly. Knowing a patient's HER2 status helps oncologists determine the best course of treatment.
To reduce HER2 result wait times for patients like Tania, Fraser Health and Royal Columbian Hospital Foundation are teaming up to cut turnaround from weeks to days. A new $150,000 diagnostic analyzer at Royal Columbian Hospital allows pathologists to quickly determine if a tissue sample is HER2 positive.
"We are ever so grateful to the Drive for the Cure Foundation and Sanjeev Garg and Seema Garg whose generous support of the HER2 analyzer made this project possible," says Jeff Norris, President and CEO of Royal Columbian Hospital Foundation. "We are humbled by the continued support we see from donors who share our mission to provide the best in care for people in our province, and who step forward to fund important equipment such as this."
"A breast cancer diagnosis can be frightening," says Adrian Dix, Minister of Health. "The new testing process at Royal Columbian Hospital coupled with our government's multi-pronged approach to improve cancer treatment will help people get the care they need so they can get back to enjoying life with their families and friends."
The Ventana BenchMark ULTRA analyzer at Royal Columbian Hospital simplifies the testing process using dual-coloured in situ hybridization (ISH). This new technique automates the testing process, allowing pathologists to interpret results with a standard microscope.
"We are thrilled to partner with the foundation to introduce this cutting-edge technology," says Dr. Victoria Lee, president and CEO of Fraser Health. "This analyzer will enable us to diagnose and treat breast cancer faster and more effectively, empowering our patients with more options earlier in their care journey."
"This technology is a game-changer for breast cancer patients in our region and across the province," says Dr. Carolyn Shiau, Regional Medical Director, Laboratory Medicine and Pathology Program for Fraser Health. "Knowing the HER2 result at the time of first appointment with a breast specialist will allow patients to make informed decisions about their treatment options. This may include chemotherapy before surgery and potentially reduce how much surgery is required."
For Tania, waiting was the hardest part.
"It was a mental game—your whole world goes black," she says.
"I didn't want to tell my children about my cancer diagnosis until I had the answers to the questions that I knew would come. Three weeks later, when I had the HER2 result—which came back negative—I had those frank discussions and moved forward with surgery."
Tania is now cancer-free and grateful that a routine mammogram caught the cancer before it spread. BC Cancer Breast Cancer screening provides free screening mammograms for all eligible B.C. women age 40 and up.