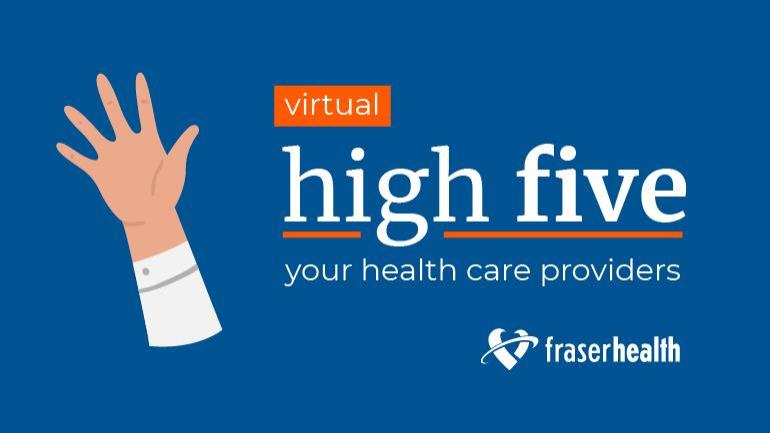 This week's high fives go to our amazing people at Abbotsford Regional Hospital, Burnaby Hospital, Chilliwack General Hospital, Eagle Ridge Hospital, Langley Memorial Hospital, Peace Arch Hospital, Ridge Meadows Hospital, Royal Columbian Hospital and Surrey Memorial Hospital.
Want to send a high five to your health care provider or Fraser Health team member? Leave a comment below or send your thanks using our online submission form. Read more kudos at fraserhealth.ca/highfive.
---
For Abbotsford Regional Hospital
Thank you to the team in Day Surgery for making my experience as stress-free as possible. I appreciated the time the team took to introduce themselves. I was amazed at how many people were involved with my surgery. From the bottom of my heart, thank you.
---
Thank you to Dr. Melnychuk and Nurses Stephanie and Kaila for being on the ball and ensuring their patients are as comfortable as possible. These three medical professionals truly care about people and their well-being.
---
For Burnaby Hospital
Thank you to Nurse Jordan for going above and beyond to provide care. He was kind, patient, checked on me often and kept me informed. I cannot overstate what an impact he made on my stay. Thank you so much Jordan.
---
For Chilliwack General Hospital
Thank you to the exemplary staff in the Emergency Department. They took swift action and worked well as a team while being pleasant and informative. Please give our thanks to all the staff for their excellence.
---
Thank you to the staff in the Emergency Department. They treated me with care, compassion and efficiency.
---
Thank you to the staff in the Emergency Department at Chilliwack General [Hospital] for the wonderful experience. Dr. King was professional, friendly and approachable. Thank you team.
---
For Eagle Ridge Hospital
I received excellent care at Eagle Ridge [Hospital]. Great job team.
---
Thank you to Dr. Ed in the Emergency Department at Eagle Ridge [Hospital] for taking great care of my daughter. He was kind, caring and professional despite being in a stressful environment. Thank you Dr. Ed.
---
For Langley Memorial Hospital
Thank you Nurse Shamshir for the excellent care.
---
For Peace Arch Hospital
Thank you to Nurse Brian for his gentle, caring demeanor and willingness to lend an ear. He was there for me when I needed him the most. I will never forget his compassion and dedication. Thank you again.
---
I recently visited Peace Arch [Hospital] for a hysterectomy. Every staff member, from admission to post-surgery, were fantastic. Really phenomenal work; thank you team.
---
For Ridge Meadows Hospital
From registration [at Ridge Meadows Hospital Emergency Department], to bloodwork, seeing a physician and finally getting a CT scan, we were impressed by the organization of the department and the caring staff and volunteers. Special thanks to Dr. Kelly. Kudos to the whole team.
---
For Royal Columbian Hospital
We recently lost my mother while she was in the Intensive Care Unit at Royal Columbian [Hospital]. The team of doctors, nurses, social workers and everyone in between were so compassionate and caring. They helped guide us through this excruciating day the best they could. We felt that everyone there was doing absolutely everything they could and truly cared. Thank you to Nurse Melissa for her compassion and devotion. She and the other nurses were true angels.
---
For Surrey Memorial Hospital
I took my toddler to the Pediatric Emergency Department for stitches. The staff were kind and the Child Life Specialist made it a great experience for the other children. The care was top notch; thank you.
---