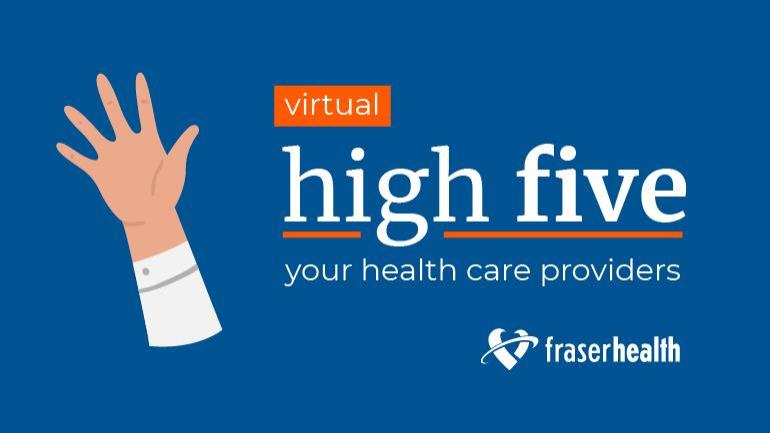 This week's high fives go to our amazing people at Burnaby Hospital, Chilliwack General Hospital, Delta Hospital, Eagle Ridge Hospital, Jim Pattison Outpatient Care and Surgery Centre, Langley Memorial Hospital, Peace Arch Hospital, Ridge Meadows Hospital, Royal Columbian Hospital, Surrey Memorial Hospital and White Rock Home Health.
Want to send a high five to your health care provider or Fraser Health team member? Leave a comment below or send your thanks using our online submission form. Read more kudos at fraserhealth.ca/highfive.
---
For Burnaby Hospital
Thank you to Dr. Heidari, Dr. Jang and the other attending nurses and physicians in the Cardiac and Intensive Care Units (ICU) at Burnaby [Hospital]. The staff were helpful and accommodating of our father's last wishes. Our family appreciated their compassion in a trying time.
---
For Chilliwack General Hospital
I took my dad to the Emergency Department at Chilliwack General [Hospital] for a medical procedure. They took him in right away and were very clear in explaining the procedure. Thank you to Dr. Kecia for his great attitude when examining my father. Thank you for a great overall experience in the emergency department.
---
For Delta Hospital
Thank you to the day surgery nurses, physician and anesthetics for the care I received. I had been quite nervous about my medical procedure, but the staff were very kind and professional, which put me at ease. Thank you.
---
For Eagle Ridge Hospital
Thank you to the greeter at the entrance, who was energetic and very helpful to folks needing directions. The surgical procedure was smooth, and I appreciated the professionalism and communication from pre-operative and post-operative staff.
---
For Jim Pattison Outpatient Care and Surgery Centre
Thank you to Social Worker Raj for all the great work you do. I appreciate your dedication and care.
---
For Langley Memorial Hospital
Thank you to the doctors, nurses, reception staff and Kevin in endocrinology for the laughter and joy. They made my surgery fun, leaving me stress free and positive. They are an amazing team, thank you.
---
For Peace Arch Hospital
I had the best experience I've ever had at Peace Arch [Hospital]. I recently visited for a medical procedure, and the team who helped me was incredible. Dr. Moodliar was clear, empathetic and eager to answer my questions. Both nurses named Michelle were kind and went out of their way to make me feel comfortable. I am forever thankful for the care I received.
---
For Ridge Meadows Hospital
The nurses, physician and other staff made my young daughter and I feel taken care of. While chatting with us, the friendly greeter gave my child a goodie bag with toys and activities. The sweet discharge nurse gave her a Popsicle, and the attending doctor was caring and kind. Absolutely over and above any hospital visit I've ever had. Thank you to the staff for being kind and making an ill little girl feel better.
---
Thank you to Dr. Heed, the nurses, the porter and the anesthesiologist for their care during my surgery. My experience was exceptional. I felt very comfortable and well taken care of.
---
For Royal Columbian Hospital
My husband was brought to the Emergency Department at Royal Columbian [Hospital] because of a stroke. I am grateful to the Medical Imaging team, CT technicians, and MRI technicians Kevin and Li for providing excellent care.
---
Thank you to the Intensive Care Unit (ICU) team for providing my dad with excellent care. Our family appreciates every staff member who made a difference during his stay in the hospital. Social Worker Cecilia was lovely and efficient. Thank you to the team.
---
After an unexpected illness I wanted to ensure that my first posting was to recognize the staff, nurses and Dr's at Royal Columbian hospital. They provided exceptional treatment and services which made all the difference for myself. Having seen first hand what They deal with everyday has made myself even more appreciative of their efforts. Thanks to everyone at RCH.
---
For Surrey Memorial Hospital
Thank you to the Medical Imaging Department staff at Surrey Memorial [Hospital] for their kind-hearted care. Lorie was great at breaking the ice with my cousin and keeping her calm. His ability to read the room and keep her spirits up was perfect. All the other staff we encountered were great at keeping us informed, making the transitions from room to room and assisting in any way they could. All the staff in the Medical Imaging Department are absolute gems.
---
For White Rock Home Health
After a recent colostomy surgery, I had the privilege of meeting Home Health Nurse Kristine. Kristine is very knowledgeable and professional, along with being compassionate and kind. When she visited, I felt very at ease, and she made me feel confident with my new way of living.
---