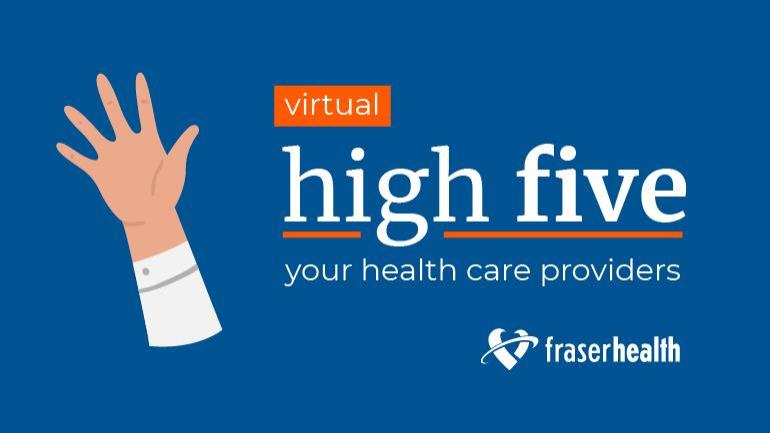 This week's high fives go to our amazing people at Abbotsford Regional Hospital, Burnaby Hospital, Jim Pattison Outpatient Care and Surgery Centre, Langley Memorial Hospital, Royal Columbian Hospital and Surrey Memorial Hospital.
Want to send a high five to your health care provider or Fraser Health team member? Leave a comment below or send your thanks using our online submission form. Read more kudos at fraserhealth.ca/highfive.
---
For Abbotsford Regional Hospital
Thank you to the staff in the Surgical Daycare Unit for their excellent care. Dr. Wang and Dr. Mateous were professional and informative. The nursing staff were great and looked after their patients with care and empathy. Thank you.
---
For Burnaby Hospital
The two young ladies at the front entrance guiding visitors are incredible. Visiting patients in hospital can be stressful, but their courteous, kind and supportive demeanor while helping me find my way was assuring. Thank you.
---
Thank you to Nurse Jodi for her lovely, calming approach and amazing care in a stressful situation.
---
For Jim Pattison Outpatient Care and Surgery Centre
I received incredibly empathetic and caring service at Jim Pattison Outpatient Care and Surgery Centre. The kindest security guard went above and beyond to ensure I got to my car safely after an appointment. He deserves huge kudos for keeping patients safe.
---
For Langley Memorial Hospital
Thank you to the Langley Memorial [Hospital] nurses, porters, X-ray and CT technicians and Dr. Sandhu. I visited the Emergency Department because of an injury sustained in a bike crash. They managed my pain well and treated me with compassion and expertise. Dr. Sandhu performed surgery on my injuries and I am now back at work. Thank you to the staff and medical staff team.
---
Thank you to the friendly MRI technician at Langley Memorial [Hospital] for making me feel at ease and comfortable.
---
I wanted to thank Nurse Karen for her compassion while looking after my elderly mum. She acknowledges her and allows her to participate in her care decisions. Thank you.
---
Thank you so much to Michele in Admitting and Anne Marie in the Medical Imaging Department. They were both so friendly and kind. Thank you for going above and beyond to be helpful.
---
For Royal Columbian Hospital
Thank you to the staff in the Colonoscopy Unit; I'd give them a 10 out of 10.
---
For Surrey Memorial Hospital
I wanted to give a big thank you to the wonderful staff in the Maternity Unit, especially Nurse Brylie. She showed me extraordinary empathy and care during my stay, which calmed my nerves and made me feel comfortable. She went above and beyond with her care for myself and others. I can't thank her enough.
---
Thank you to the nursing staff in the Emergency Department at Surrey Memorial [Hospital]. I was brought to the hospital by ambulance, and the team's immediate care and quick action saved my life. I want to compliment Nurse Elwin for providing excellent care while I was in hospital.
---