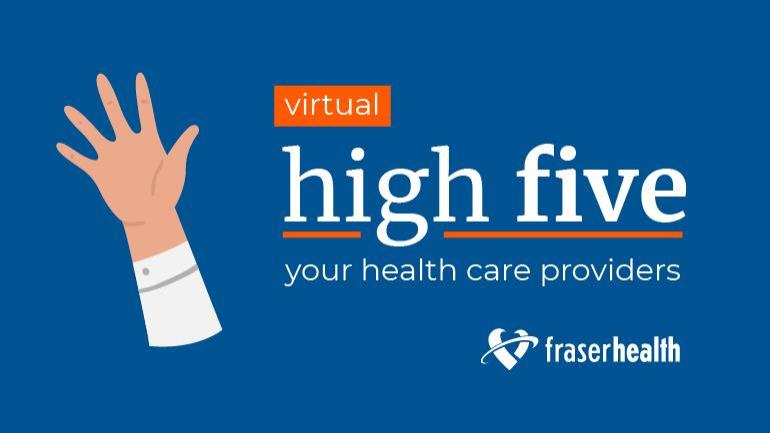 This week's high fives go to our amazing people at Chilliwack General Hospital, Delta Hospital, Eagle Ridge Hospital, Jim Pattison Outpatient Care and Surgery Centre, Langley Memorial Hospital, Peace Arch Hospital, Royal Columbian Hospital and Surrey Memorial Hospital.
Want to send a high five to your health care provider or Fraser Health team member? Leave a comment below or send your thanks using our online submission form. Read more kudos at fraserhealth.ca/highfive.
---
For Chilliwack General Hospital
I wanted to commend Dr. Dhillon for his excellent delivery of health care during my medical procedure. Dr. Dhillon was unbelievably respectful and helped me find a solution to my medical issues. I feel like a new person and can't thank him enough for his care. We are lucky to have him.
---
For Delta Hospital
Thank you to the kind and patient woman from the Emergency Department team. She helped me, a lost, frightened, elderly woman, with directions home after being re-routed onto dark highways in an unfamiliar town. I am incredibly grateful for her compassion.
---
For Eagle Ridge Hospital
My wife was recently admitted to the Emergency Department at Eagle Ridge [Hospital]. I was absolutely amazed at the care she received. Words are hard to find to express my gratitude. The professionalism, kindness, care, patience and comfort shown to my wife was above and beyond. Thank you all so much.
---
For Jim Pattison Outpatient Care and Surgery Centre
A big thank you to Karen in Surgical Daycare; she was amazing. Very kind and she made me feel completely at ease.
---
For Langley Memorial Hospital
I wanted to send a high five to Sarah in the Medical Imaging Department at Langley Memorial [Hospital]. She always has a smile on her face and goes above and beyond to help her colleagues and patients. Her kindness and hard work don't go unnoticed.
---
For Peace Arch Hospital
My mother was recently admitted to Peace Arch [Hospital] due to vomiting and fever. I want to give Care Aide Teresa a huge thank you for treating my mom with such dignity and kindness. Thank you, Teresa.
---
For Royal Columbian Hospital
I cannot say enough good things about Nurse Anita. She has gone far above and beyond to maximize my comfort during my stay here. On top of that, she is always bubbly and has been a wonderful advocate for me. I can't imagine recovering without her help now; she deserves all the recognition in the world.
---
For Surrey Memorial Hospital
I am grateful beyond words for the incredible care my husband received at Surrey Memorial [Hospital]. The prompt, caring and efficient service from the paramedics, nurses, doctors and support staff is truly commendable. Despite the busy times, their dedication shines through. Thank you.
---
High fives to the emergency room staff for attending to my injuries in a timely fashion. You are appreciated. Thank you.
---