Offers a personal emergency response program for clients wishing another level of safety in their homes.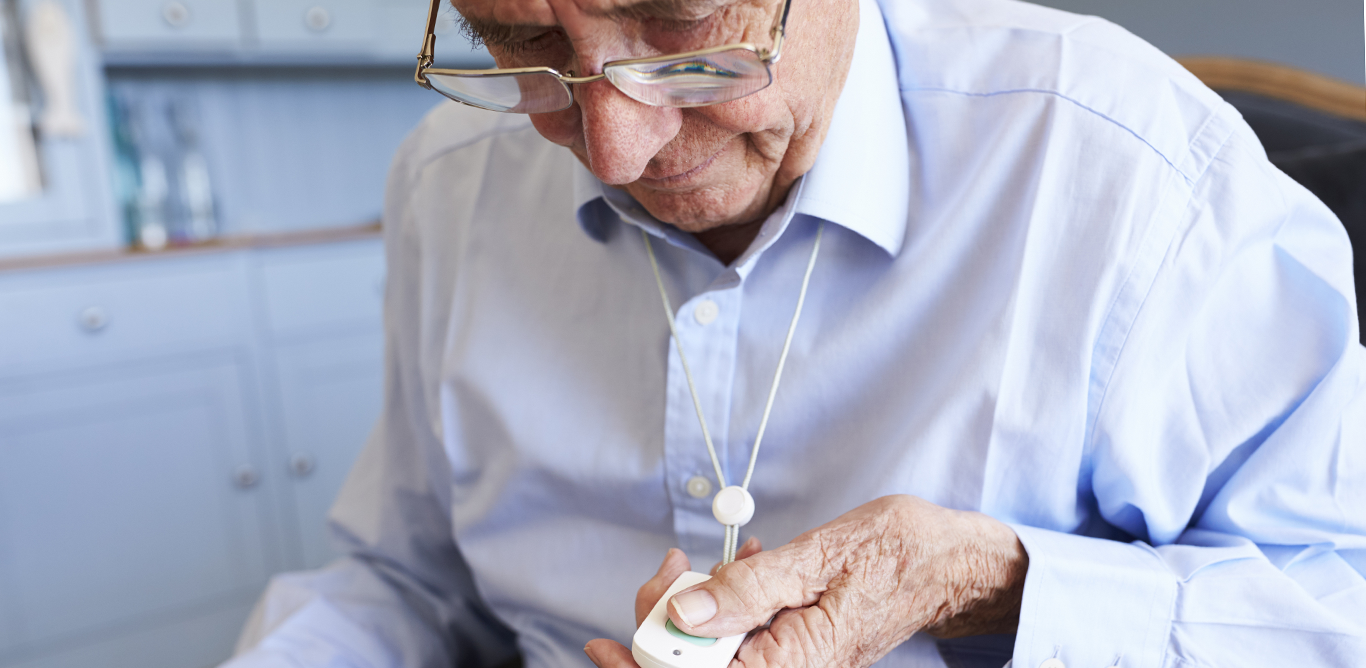 Help is seconds away.

Lifeline's emergency personal response system assists individuals to maintain independence and remain safe in their own home. Worn as a neck or wrist style help button, Lifeline can assist you or your loved one 24 hours a day, 7 days a week.
If you or your loved one are:
Recovering from a recent hospitalization
At risk for falling
Home alone on a frequent basis
Requiring assistance with daily activities of living
Using a mobility device such as a cane, walker, wheelchair or scooter
Dependent on a caregiver
Managing multiple health conditions
Managing multiple medications
Working on or maintaining independence
Then consider how Lifeline can help you or your loved one.

Help button options

The Lifeline push button is a neck pendant or a wrist style. It requires the individual to push the button to connect with the 24/7 emergency response centre. Within seconds a trained personal response associate will communicate with the individual through the Lifeline communicator unit connected to the telephone. The trained personal response associate will stay on the line with the individual and call for help. Help may be calling a family member or calling 911 for emergency services (e.g. ambulance, police, fire department).

For added protection for you or your loved one who may be at risk of falling or has a history of falling, consider the Auto Alert button. The Auto Alert button will automatically call the response centre if someone falls and does not move within 30 seconds. The button is designed to detect the difference between real falls and the action of bending over to pick something off the floor.

Lifeline programs

The Fraser Health Lifeline program uses the Philips' Lifeline equipment, with monitoring done by Philips' Lifeline 24/7 call centre. There is a charge for this service — contact us at 604-953-4960 or email at lifeline@fraserhealth.ca for more information. A regular telephone line is required along with a nearby electrical outlet. Currently, the system does not work with cell phones.

You or your loved one will be required to provide basic medical information such as your health conditions, medications, allergies, and the name of your family physician or health care provider. You will also need to provide names and phone numbers of family, friends, or neighbours who live close by – preferably within 10 minutes' drive. These people should be people you trust with a key to your home. Should the need arise; one of your responders will be contacted.

The Fraser Health program covers Burnaby, New Westminster, Port Moody, Coquitlam, Port Coquitlam, Anmore, Maple Ridge, Pitt Meadows, Surrey, White Rock and Langley. Call 604-953-4960 for more information.

For clients living in Delta, call the Delta Lifeline program at 604-946-1121 - ext. 783268.

For clients living in Abbotsford, Mission, Chilliwack or Hope, call the Valley Alert Lifeline Program at 604-854-5991 or toll free at 1-888-969-1818.


Both the Delta Lifeline program and the Valley Alert Lifeline program offer the same service as Fraser Health.