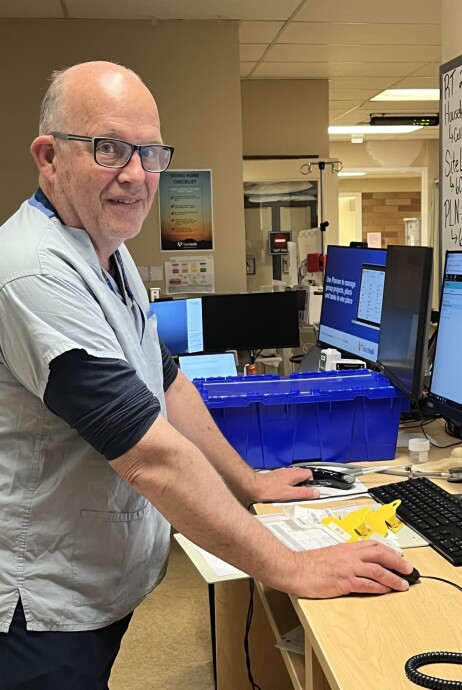 Having everything in one place means less moving around," says Dr. Michael Newton - Mission Memorial Hospital, Emergency physician "Charts no longer need to be carried here and there and that's a win-win for all of us."

While many units at Mission Memorial Hospital (MMH) slow down and tuck in for the night, the Emergency Department (ED) remains on high alert. With a consistent flow of nurses moving quickly between patients, and doctors conferring in hushed tones, the department orchestrates an intricate dance of triage and treatment.

And while the steps of this dance function in a rhythm to support success, Dr. Michael Newton, an Emergency Department Physician and Hospitalist at MMH, is most enthusiastic that the implementation of MEDITECH Expanse means fewer "steps" for all. "Having everything in one place means less moving around," says Dr. Newton. "Charts no longer need to be carried here and there and that's a win-win for all of us."
Practicing medicine for 35 years, Dr. Newton has been dedicated to serving the community of Mission for five years. Anticipating the new system would be more difficult, he is delightfully surprised at the ease of entering orders, improved communication, and the support it provides in preparing ED notes to forward along to family physicians.

Only two days after going live with MEDITECH Expanse, Dr. Newton says he was expecting he would only be able to see half the number of patients he did pre-Go-Live. To his surprise he was able to see 20+ patients, aligning very close to his previous cadence.

So, while the steady hum of medical equipment continues to provide a familiar back drop to the rapid pace of urgent interventions and critical decision-making that the ED demands, the introduction of new steps and new choreography with MEDITECH Expanse promise to fill the stage with an improved artistic expression that creates ease for staff and medical staff while in-turn improving the quality, consistency and safety of patient care.