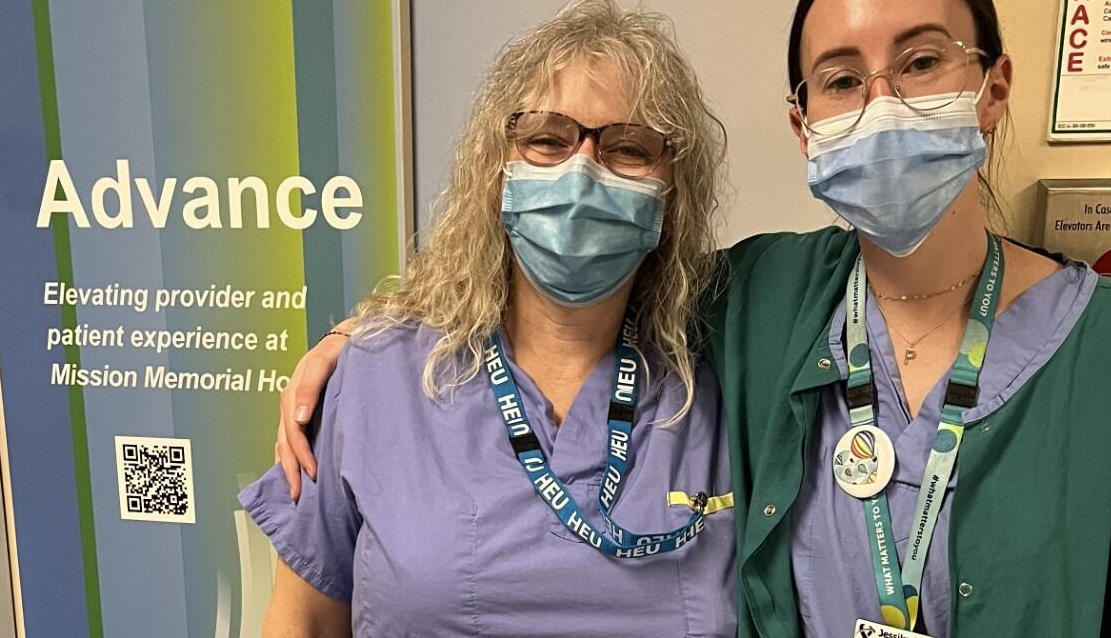 As the first faces many patients see, Wendy Jones and Jessika Edgar approach their roles as unit clerks at Mission Memorial Hospital (MMH) with a warm welcoming presence and a can-do attitude.
Wendy has been working in health care for 34 years helping to ensure the smooth operation of Mission Memorial Hospital. She has held various roles and seen many transformations. "MEDITECH Expanse is bound to improve patient care and safety," says Wendy. "It's a lot to learn but I am confident we will succeed."
Partnership is key
While Wendy boasts many accomplishments in her long-standing career, one of her most fulfilling is her role as a mentor to the many students she has been privileged to lead… students like Jessika.
"When Jessika arrived 11 years ago, I knew she was special," says Wendy. Working in various Fraser Health hospitals Jessika has returned to the place she started her career. "Wendy's training during my student placement provided me with a solid foundation for my career," says Jessika. "
It's great to be on this new journey with MEDITECH Expanse with her by my side."

This dynamic duo now serve together in the Medical and Path units at Mission Memorial Hospital. They exhibit the various (and necessary) attributes and skills required to be a unit clerk including meticulous attention to detail, managing administrative tasks, coordinating patient admissions and discharges, maintaining accurate medical records, and facilitating seamless communication between health care professionals.
Stepping into the future of care together
Their commitment to organization and efficiency directly contributes to the quality of patient care, ensuring each individual's journey through the healthcare system is fluid and as comfortable as possible.
Stepping into the future of care together Wendy and Jessika look forward to embracing this new digital platform. Representing unit clerks across the region their dedication and expertise play an indispensable part in upholding the standard of excellence patients deserve.