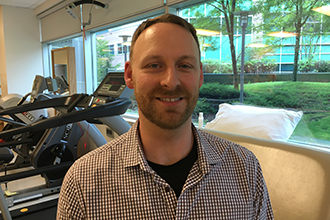 Adam Fletcher is a registered occupational therapist who grew up in Prince Edward Island and now lives in Mission with his wife Jessica and three children.
He has been working as an occupational therapist since graduating from Dalhousie University in 2005. In August 2005, he joined Fraser Health on the rehab unit at the former Matsqui-Sumas-Abbotsford Hospital and then eventually transitioned to working on the acute care for the elderly unit at Abbotsford Regional Hospital and Cancer Centre in 2008. There, he was involved in piloting the START Outpatient Stroke Rehab program in 2011. Since that time, the program has grown and in addition to serving stroke patients, who account for 70 per cent of the program's clients, the team also works with a variety of other rehabilitation clients.
Adam currently serves as the clinical supervisor for Abbotsford Regional Hospital's Community REDi Program, a multidisciplinary outpatient rehabilitation program.
Occupational therapy
Rehabilitation
Recent blog posts and articles