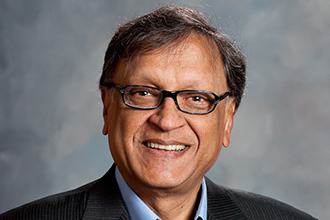 Dr. Arun Garg is the program medical director of Laboratory Medicine and Pathology and medical director of the South Asian Health Institute.
Dr. Garg is part of the Cooperation and Engagement office in the Department of Pathology Medicine of the University of British Columbia and special advisor to the Dean of Health Sciences of British Columbia Institute of Technology on India.
Throughout his career, Dr. Garg has found time to volunteer in several capacities serving to build stronger ties with India. In 2006, the Government of BC appointed him as chair of India Marketing Advisory Group under Asia Pacific Trade Council, an advisory Committee to the Premier of British Columbia. A report was released in January 2007 and the recommendations supported the province's blueprint for trade policy with India. He also co-chaired the Simon Fraser University President's Advisory Committee on India (2006-2010). To further promote stronger links between Canada and India, Arun conceptualized and co-chaired the Canada India Network Initiative (CINI2010) on Cardiovascular Health and founded the Canada India Network Society to build strong economic, trade, educational and cultural links between Canada and India. He is also a founding member of the Canadian Physicians with Interest in South Asia (PISA) of BC (1986) and Canadian Association of Physicians of Indian Heritage (2007).
Laboratory medicine and pathology
South Asian Health Institute
Awards, honours, recognition and certification
2014 Lifetime-Achievement Award, Canadian Association of Physicians of Indian Heritage
2011 Award of Excellence, College of Physicians and Surgeons of B.C.
2011 Dr. Don Rix Award for Physician Leadership, Doctors of B.C.