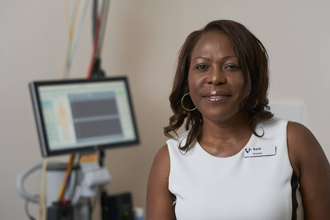 Barb Sutherland provides executive leadership and strategic oversight to Royal Columbian Hospital.
Barb brings to her new role over 24 years' experience in Fraser Health. Her recent experience as a Director at Royal Columbian Hospital in Site Operations has led the site in quality improvements and she has completed many projects such as creating Fraser Health's first stand-alone accredited Vascular Lab and works tirelessly to improve the patient journey.
Barb has a can do attitude and is a proven team player. Her greatest strengths are in building strong relationships, fostering engagement of staff, physicians, volunteers and the Royal Columbian Hospital Foundation.
Barb graduated from Douglas College in 1995 with her nursing diploma. She then went on to receive her Bachelor of Science in Nursing Degree from the University of Victoria in 2005. Seeking out a new challenge and opportunity Barb pursued yet another degree from Colorado State University with a Master's Degree in Organizational Leadership.