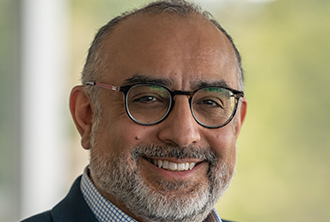 Bashir Jiwani provides leadership for Ethics and Diversity Services across Fraser Health.
Bashir became the director of Ethics Services when it was founded at Fraser Health in 2005, which was later joined with Diversity Services in 2010 as a regional program. Before coming to Fraser Health, Bashir served as a health care ethicist and leader for the Ethics Network at Providence Health Care. He has also served as a leader on a wide range of civil society and government boards and committees.
Bashir earned a Bachelor of Arts in Philosophy from McGill University. He also has a Masters of Arts in Philosophy with a specialty in bioethics from the University of British Columbia. Bashir received his Ph.D. from the University of Alberta in Public Health Sciences, where his interdisciplinary focus was on bioethics, political theory and public health. His primary area of academic interest is building capacity for ethics-based decision-making in contexts of diversity.