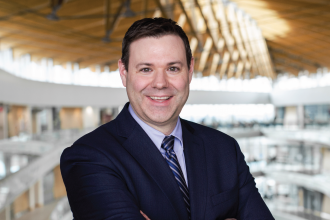 Brendan Abbott provides executive director leadership and strategic oversight to Abbotsford Regional Hospital, Mission Memorial Hospital and Abbotsford and Mission Community Health Services.
Brendan has over 20 years of health care experience across the laboratory, primary, acute and quaternary sectors, where he has occupied leadership and senior leadership roles. Most recently, Brendan has been an executive director with the BC Ministry of Health, Acute and Provincial Services, where he had responsibility for provincial strategic leadership, policy development and oversaw many priority initiatives. Before this, Brendan held the role of director, Acute Care Monitoring and Performance, at the Ministry of Health, leading program policy and provincial initiatives to improve quality and access for patients and services across health authorities. Brendan has also served as the co-chair of the Specialist Services Committee and the co-chair for the Facilities Engagement Working Group.
Brendan obtained his Bachelor of Science from the University of Calgary and is currently completing a Masters in Leadership from Royal Roads University.