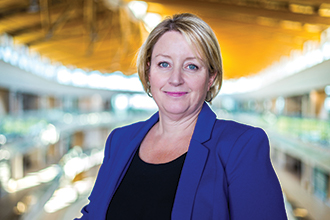 Cathie Heritage is the executive director for Surrey Memorial Hospital.
Cathie is a health care leader with over 30 years of experience. Her early career started at Vancouver General Hospital as a frontline nurse for 10 years. She has been a clinical educator for nursing staff as well as a patient services manager.
As a senior leader, she has provided director and executive director leadership to a number of services and programs within both Fraser Health and Vancouver Coastal Health. Her work has extended regionally and provincially for a multitude of service delivery streams including medicine, cardiac, renal, leukemia bone marrow transplant, palliative care and emergency.
She has worked alongside Provincial Health Services, specifically, the Provincial Renal Agency and Cardiac Services British Columbia representing both Fraser Health and Vancouver Coastal Health in her tenures.
She has most recently provided leadership to Burnaby Hospital in the capacity of executive director and offered short-term leadership (six months) support to the Royal Columbian Hospital during a period of system transition.
Cathie holds a Masters in Leadership from Royal Roads, a Bachelor in Science from the University of Victoria. She is a registered nurse, graduating from Vancouver General Hospital, School of Nursing.