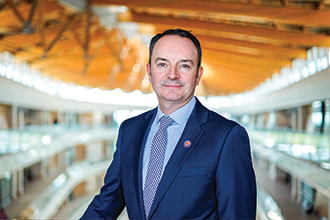 David Thompson provides strategic leadership to a range of clinical services, programs and acute care hospitals.
David is accountable for the hospital and community health services in Langley, White Rock, Delta, Tri-Cities, Burnaby, Maple Ridge, Pitt Meadows, Chilliwack, Hope and Agassiz. He is also responsible for Primary Health Care and Chronic Disease Management and for Clinical Information, Transformation and Innovation.
David has over 20 years of experience in various leadership roles in the B.C. health system. Most recently, David held the position of vice president, seniors care and chief quality, safety and performance officer at Providence Health Care.
He has held many leadership roles both with Fraser Health and Providence Health Care including Residential Care, Health Information Systems and Quality Improvement. He has served on a number of provincial committees and boards throughout his career, and is currently a surveyor with Accreditation Canada, serves on the Board of Accreditation Canada and the Canadian College of Health Leaders (CCHL).
David has a Masters of Health Science in Health Administration from the University of Toronto. He has earned the designation of Certified Health Executive (CHE) from the Canadian College of Health Leaders and has completed the Executive Training in Research Application (EXTRA) Fellowship through the Canadian Foundation for Healthcare Improvement. He is currently completing his Canadian College of Health Leaders Fellowship.