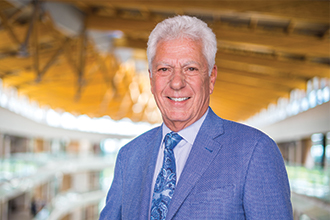 Dr. Roy Morton leads and supports physician partnerships, medical affairs, and research and academic development.
Roy also provides leadership for the regional medical program directors of emergency, medicine, surgery, renal care, cardiac services, critical care and trauma.
Roy has provided stability in medical practice and administrative leadership in the Fraser Health Authority for more than 20 years.
He has held leadership positions within the health authority including head of the Addiction Medicine Consultation Service at Royal Columbian Hospital which he started in 1996 (the first in-hospital addictions service in Fraser Health). The addictions service functions within the Mental Health and Substance Use Program actively teaching residents in both psychiatry and family practice.
Apart from his nationally recognized qualifications in addiction medicine, Roy has served as chair of the College of Physicians and Surgeons of BC Ethics Committee and Quality Performance Committee. In addition, he was a member of the Department of Anesthesia at Royal Columbian and Eagle Ridge Hospitals until 2012 with a UBC Faculty of Medicine appointment as associate professor.
Roy has held numerous medical leadership roles over the years including head department of Internal Medicine for Royal Columbian Hospital and Eagle Ridge Hospital, medical director of Royal Columbian Hospital, executive medical director for Acute Programs and most recently executive medical director for Programs, Physician Partnerships and Performance.
Roy holds a Medical Doctor Degree from the University of British Columbia and Specialty Certification by the Royal College of Physicians and Surgeons of Canada – Medicine (Anesthesiology).