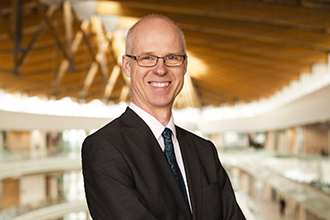 Gregor McWalter provides interim executive leadership to a portfolio of services focused on enabling change, transformation and on improving health service quality and system performance.
Gregor's portfolio of services include the areas of Health Informatics, Clinical Solutions, eHealth, Technology Services and Integrated Analytics. He is also the executive customer liaison for the following Lower Mainland Consolidated Services: Laboratory Services, Medical Imaging, Biomedical Engineering, Health Information Management and Integrated Protection Services.
Gregor has worked in a health service setting for his entire career and has been with Fraser Health for over seven years, working within the Informatics portfolio. Previous experience includes over ten years in Alberta in a range of consulting and program management roles. Prior to that, Gregor worked in the NHS in Scotland for over ten years in a variety of informatics, analytics and research roles.
Gregor has a Master of Arts with Honours in Psychology from the University of Glasgow and a Master of Science in Information Technology from the University of Stirling.