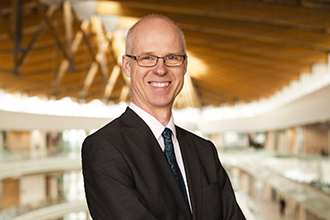 Gregor McWalter is the Chief Information Officer for Fraser Health.
Gregor is responsible for about 450 software application services, voice, service management, cybersecurity, architecture, project management office, devices, integration and information exchange; and the Fraser Health connection point for lower mainland shared technical services, health information management and biomedical engineering.
Gregor has worked in a health service setting for his entire career and has been with Fraser Health for over seven years, working within the Informatics portfolio. Previous experience includes over ten years in Alberta in a range of consulting and program management roles. Prior to that, Gregor worked in the NHS in Scotland for over ten years in a variety of informatics, analytics and research roles.
Gregor has a Master of Arts with Honours in Psychology from the University of Glasgow and a Master of Science in Information Technology from the University of Stirling.