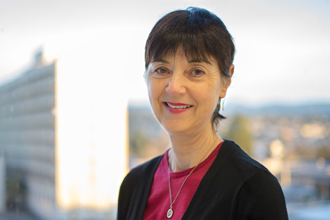 Hazel is a nurse practitioner at Royal Columbian Hospital and sees patients in the Cardiac Clinic who have acute and chronic heart failure and atrial fibrillation.
Hazel works with a team of professionals in the Cardiac Clinic. She assesses diagnoses and treats heart failure and atrial fibrillation. Hazel supports Cardiac Clinic patients through their journey by providing medical management plans, education, self-management strategies and promotes a healthy life style for patients.
Heart failure
Atrial fibrillation
Masters in Nursing, Nurse Practitioner - 2009 - University of British Columbia
Awards, honours, recognition and certification
2018 Award for Clinical Excellence from the Department of Nurse Practitioners at Fraser Health
Contact Information
604-528-5073
Mon-Fri 8:30 a.m. to 4:30 p.m.