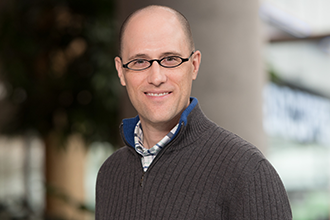 Kevin Hare leads and works within the Clinical Quality and Patient Safety Department and is the executive director of Clinical Quality and Strategic Priorities.
Kevin's main priority is to maintain objectivity for effective and balanced approaches to improvement. Ensuring high levels of accountability and integrity, Kevin measures the success of his teams on integration throughout the organization.
Kevin entered health care in the mid-1990s with the desire to better understand the human condition. This desire provides a firm demonstration of his commitment to enhance intrapersonal connections. Kevin has always maintained a passion for knowledge throughout his career to advance his understanding of our contextual environment.
Kevin has a wide and varied career in health care and his experience in the clinical and administrative practice areas has intensified his determination for effective and quality health care. A current area of interest is advanced concepts in demand and quality management for health care that include the concepts of optimization, simulation, forecasting, augmented reality and artificial intelligence. These new approaches for demand and quality management create profound ways at conceptualizing our ever changing health care system, enhancing health care delivery through a holistic approach.
Kevin has a Bachelor of Science in Nursing from Regis University and a Master of Business Administration from the University of Denver – Daniel's School of Business.