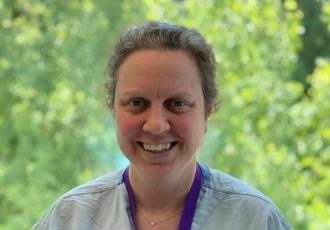 Dr. Kirsten Grabowska practices Maternal Fetal Medicine in Fraser Health.
Dr. Kirsten Grabowska a Maternal Fetal Medicine specialist, based primarily in the Fraser Health Authority. She also provides care at BCWH. She is a Clinical Assistant Professor in the Department of Obstetrics and Gynecology at the UBC. Kirsten has a special interest in ultrasound for fetal diagnosis and evaluation of placenta accreta spectrum, managing complex medical conditions in pregnancy, and infectious diseases in pregnancy. Kirsten's research involvement includes her work as one of the MFM co-leads in the PAS (Placenta Accreta Spectrum) program, as well as collaborating with colleagues at BCWH in her work on the Maternal Legacy Microbiome Project.
Multiple gestation
Fetal ultrasound
Obstetrics and Gynecology
Fellowship, Maternal Fetal Medicine – University of Toronto

Residency (FRCSC) Obstetrics & Gynecology – University of British Columbia

Doctor of Medicine – University of British Columbia

Bachelor of Science in Animal Biology – University of British Columbia
Awards, honours, recognition and certification
Nuchal translucency certification
Martinka D, Barret J, Mei-Dan E, Zaltz A, Melamed N. Respiratory morbidity in late preterm twin infants. Arch Gynecol Obstet. 2019 Aug;300(2):337-345.

O'Connor (Martinka) D, Berndl A. Placenta percreta. CMAJ. 2018 Feb12;190(6):E168.