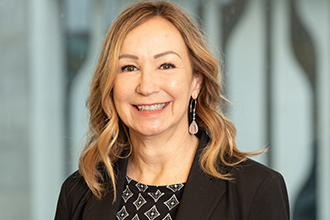 Lesli Matheson provides executive leadership for the Clinical Quality and Patient Safety program at Fraser Health
Lesli has over 19 years of experience in various leadership positions at Fraser Health. Her previous positions include clinical director roles at Ridge Meadows Hospital and Abbotsford Regional Hospital, focusing on Medicine, Emergency, critical care, and multiple outpatient and community programs. She was a Quality Improvement and Patient Safety consultant at both Eagle Ridge Hospital and Ridge Meadows Hospital. She spent two years as a health care advisor at the Royal Commission Hospital in Saudi Arabia, focusing on patient experience.
Lesli brings a patient-centred approach to integrating quality care at Fraser Health and has always endeavoured to lead her operational portfolios through a quality lens.
Lesli holds both a Bachelor's and Masters of Social Work from the University of British Columbia and is pursuing her Black Belt in Lean Methodology.