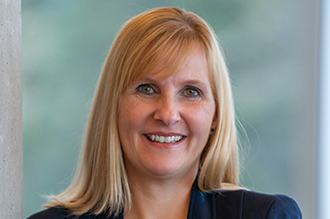 Nicole provides executive leadership and strategic oversight to the Community Health Services, Surrey, Jim Pattison Outpatient Care and Surgery Centre and Fraser Health Renal Services.
Career snapshot
Nicole began her career in Fraser Health in 2004 and possesses over 25 years of health care experience, ranging from front line practice, to management and leadership positions in a variety of health care settings.
Her past experience includes Executive Director of Pandemic Planning and Response, Director positions within Rehabilitation, Clinical Quality and Patient Safety, Long Term Care, as well as Clinical Operations in Peace Arch and Surrey Memorial Hospitals.
Nicole is committed to learning and personal growth, collaboration and partnerships, "Great Workplaces" for staff and physicians and accessible, safe, quality, compassionate person-centered care.
Formal education
Nicole holds a Bachelor of Science in Physical Therapy from the University of British Columbia and an Executive Master of Business Administration in Health Care from the UBC Sauder School of Business, as well as a Certified Health Executive designation and a black belt in Lean Six Sigma.