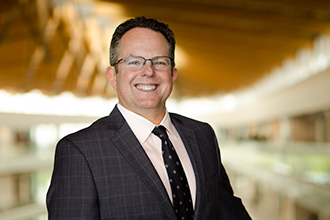 Norm Peters provides strategic oversight for community and primary care services and the Home Support transition portfolio.
Norm is accountable for Mental Health and Substance Use, as well as integrating acute and community services regionally.
Prior to joining Fraser Health, Norm was the executive director for Long-term Care, Home Care Strategy, End-of-Life and Surgical Services, Ambulatory Care at Island Health. In this role, Norm was the executive lead for home support redesign, community-based service agreements and the provincial access strategies. This included improving wait times and the patient experience for surgery, colonoscopy and MRI. Norm has also held leadership positions in public and community health and has led projects and initiatives for clients needing primary care, community care and mental health support.
Norm is a past chair of the Canadian College of Health Leaders – Vancouver Island Chapter. Committed to strengthening his community, Norm serves on the Board of Directors of the Boys and Girls Services Club of Greater Victoria.
Norm holds a Bachelor of Arts in Political Studies and History from the University of Saskatchewan and a Master of Business Administration from the Asper School of Business. A dedicated lifelong learner, Norm is also a certified health executive with the Canadian College of Health Leaders.