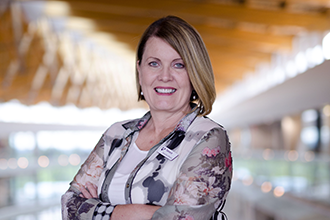 Tamara Van Tent-Colliar provides interim executive director leadership and strategic oversight to Ridge Meadows Hospital and Pitt Meadows and Maple Ridge Health Services.
Tamara brings 34 years of health care and management experience to her portfolio, most recently as the Surgical and Ambulatory Services clinical director at Abbotsford Regional Hospital. Prior to this she was the clinical director Maternal Infant Child and Youth Services and Infection Prevention and Control. Tamara has been part of Fraser Health for more than 30 years. In addition to her leadership portfolio, Tamara is a member of the Fraser Health Respectful Workplace Resolution Team and completed the BC Patient Safety and Quality Council, Quality Academy in 2017.
Tamara obtained her Diploma of Nursing through Vancouver General School of Nursing, her Bachelor of Science in Nursing through Kwantlen University and her Master of Health Studies (leadership) through Athabasca University.