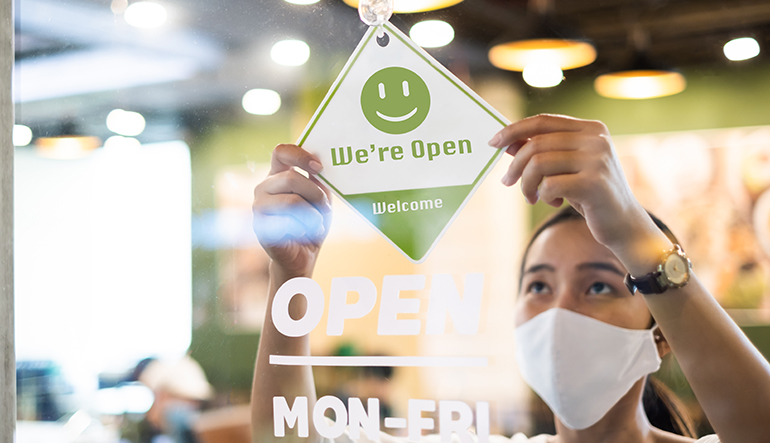 Information and resources to help your business stay safe during COVID-19.
Proof of vaccination is no longer required under a public health order. Individual businesses and event organizers can choose to require masks or proof of vaccination for entry. Please note that wearing a mask does not replace other measures such as staying home when ill and handwashing.
Follow communicable disease guidance from WorkSafeBC
Having a healthy business during COVID-19 means having strong safety protocols in place and doing everything you can to take care of your employees and yourself, while being a community leader and role model. Healthy staff and healthy customers means healthy businesses.
Employers should monitor for information about communicable diseases which is relevant to their area and industry from public health officials and the provincial health officer in order to guide additional measures that may be needed in their workplace during any periods of higher risk.
Encourage your staff to get vaccinated
Anyone over six months old can get COVID-19 vaccines and booster doses. Giving your employees time to access vaccines can improve uptake.
Encourage staff to stay home when sick
We know that having employees miss even a day of work can have a major impact on your business. However, the cost of having one employee stay home when they are sick is much lower than having your entire workforce end up sick with COVID-19 or other infectious diseases.
If an employee has symptoms of COVID-19, they should stay home until their fever is resolved and they feel well enough to return to work and their normal activities. They can use the When to get tested for COVID-19 resource or the BC Self-Assessment Tool to see if they need to get tested.
Learn more about paid sick leave for workers. Provincial regulations do not require COVID-19 testing for employees to return to work after illness.
Other protective measures
Specific COVID-19 control measures like using barriers, physical distancing, cohorting staff and directional signage are not required in workplaces. However, some control measures may continue to provide protection against COVID-19 transmission, particularly for unvaccinated workers and patrons. These measures may also provide protection against the spread of other respiratory diseases. Businesses are recommended to keep protective measures that do not have a significant cost or impact on business functioning.
Public Health carefully monitors the risk in our communities from COVID-19 and may make new recommendations if the situation changes. Keep up-to-date on all provincial restrictions. Continue to follow direction from your local and provincial public health authorities.
Communicate clearly
In addition to the above, ensure safety instructions and signage are in the primary languages of the workforce.
Thank you for doing everything you can to keep yourself, your employees, your business and community healthy.
Additional support

Workers and employers with questions or concerns about workplace exposure to COVID-19 can call WorkSafeBC's Prevention Information Line at 604-276-3100 in the Lower Mainland (toll-free within B.C. at 1-888-621-SAFE).

You'll be able to speak to a prevention officer to get answers to your questions, and if required, a prevention officer will be assigned to assess the health and safety risk at your workplace.