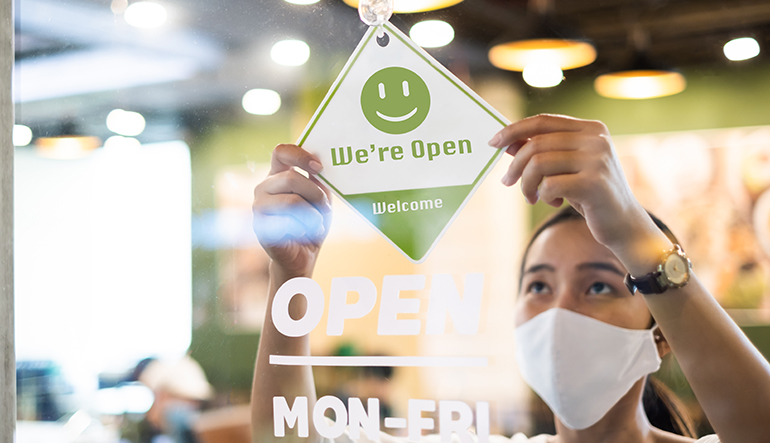 Information and resources to help your business stay safe.
B.C.'s restart is a careful, four-step plan to bring B.C. back together.
Having a healthy business during COVID-19 means having strong safety protocols in place. It means doing everything you can to take care of your employees and yourself, while being a community leader and role model. Healthy staff and healthy customers means healthy businesses.
Under Step 3, COVID-19 safety plans are no longer required for businesses. However, employers are still required to take general measures to minimize the risk of communicable diseases at their workplaces. Employers need to maintain general prevention measures at all times. COVID-19 safety plans are required for workplaces in Fraser East as of September 28.
General measures include promoting hand hygiene, maintaining a clean environment through routine cleaning, and ensuring building ventilation is properly maintained and functioning as designed. Employers may also choose to integrate new measures from their previous COVID-19 safety plans into their ongoing operations.
Employers also should monitor for communicable diseases related information relevant to their area and industry from public health officials and the provincial health officer in order to guide additional measures that may be needed in their workplace during any periods of higher risk
Masks are required in all public indoor settings for all people born in 2016 or earlier (5+)
As of October 12, masks are required in all public indoor settings for all people born in 2016 or earlier (5+). Learn more here.
For workplaces in Fraser East (effective September 28, 2021):
Masks are required in shared indoor spaces at workplaces not already covered by current provincial order for workers without relevant exemptions where this does not interfere with the performance of their work duties.

Written COVID-19 safety plans are required for all workplaces (as part of a workplace's Communicable Disease plan), to be available upon request by public health.
Masks remain required in health care settings, such as in hospitals, long-term care and assisted living facilities, community clinics and in home health/home support. Masks may also be required in other settings as determined by organizational policy.
Please note: a mask is not a replacement for other measures such as staying home when ill and handwashing.
Ensure employees have instruction on how to properly wear masks and other applicable personal protective equipment.
Encourage your employees to get vaccinated
Anyone five years and older is eligible for their first dose of COVID-19 immunization. All Fraser Health residents are welcome, including those without personal health numbers, vulnerable people and/or people who are not residents of B.C. Find a clinic location here.
Don't let employees come to work sick
Having employees miss even a day of work can have a major impact on your business. However, the cost of having one employee stay home when they are sick is much lower than having your entire workforce end up sick with COVID-19 or other infectious diseases, or stuck in self-isolation.
All employees should be required to stay home when they are sick. You can support them to do this by offering sick days and not requiring a doctor's note.
Other protective measures
Specific COVID-19 control measures like barriers, physical distancing, cohorting staff and directional signage are not required in workplaces. However, some control measures may continue to provide protection against COVID-19 transmission, particularly for unvaccinated workers and patrons. These measures may also provide protection against the spread of other respiratory diseases. Businesses are recommended to keep protective measures that do not have a significant cost or impact on business functioning.
Public Health is carefully monitoring the risk in our communities from COVID-19 and may make new recommendations if the situation changes. Continue to follow direction from your local and provincial public health authorities.
Keep good records
Public Health will continue to manage cases, clusters, and outbreaks of COVID-19. Having detailed logs of where staff worked each day and maintaining a current employee list with contact information and identifying information (e.g. date of birth) will support Public Health to do contact tracing if a case occurs at your workplace. This can limit the number of staff needing to isolate if a case occurs.
In addition to the above, ensure safety instructions and signage are in the primary languages of the workforce.
Good COVID-19 sense makes good business sense
Let's continue to work together to reduce the transmission of COVID-19. Encourage your employees to get vaccinated if they haven't already. Anyone can walk into any of our vaccine clinics to receive their first dose of COVID-19 vaccine. No appointment or personal health number (medical care card) is needed.
Thank you for doing everything you can to keep yourself, your employees, your business and community healthy.
Translated
Download our translated information and resources to help COVID-19 proof your business in the following languages:
Additional support

Workers and employers with questions or concerns about workplace exposure to COVID-19 can call WorkSafeBC's Prevention Information Line at 604-276-3100 in the Lower Mainland (toll-free within B.C. at 1-888-621-SAFE).

You'll be able to speak to a prevention officer to get answers to your questions, and if required, a prevention officer will be assigned to assess the health and safety risk at your workplace.