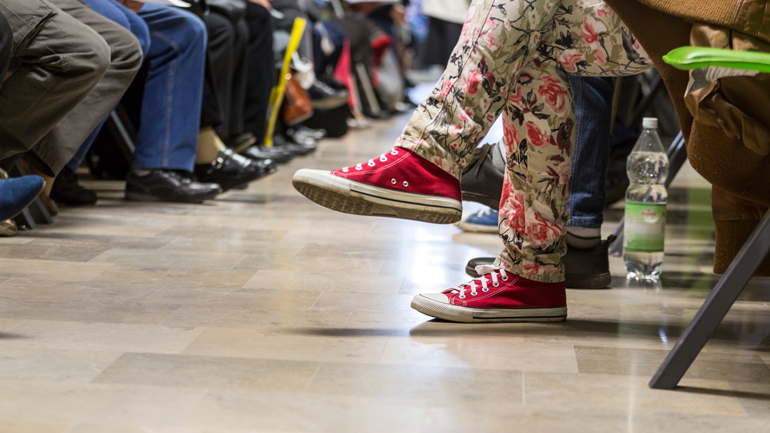 A guide to choosing the right care in the right place.
Health problems occur at the darndest times, don't they? Just as the long weekend finally arrives, your 7-year-old daughter wakes up at the crack of dawn Saturday morning spiking a fever with a runny nose, and feeling sick.
Should you take her to the Emergency Room?
For serious and life-threatening issues like heart attack or stroke, heavy bleeding, severe breathing difficulties, severe burns, ongoing seizures, or a major accident, the ER is always the right place. But is it the right place for your daughter this Saturday morning? Clearly, this is not an emergency and you could wait for a long time before being seen – doctors see the sickest patients first.
In my opinion, here are some better options you could consider:
Memorize this number for all non-urgent health problems, anytime: 8-1-1
If you're unsure what to do about your health concern or your options for care, this is your best bet. The free 8-1-1 service (7-1-1 for hearing-impaired), operated by HealthLink BC, part of the Ministry of Health, is available 24 hours a day, seven days a week in over 130 languages. You can speak to a nurse and receive trustworthy health advice and information about where to get help. You can also look online for symptom information.
Through 8-1-1, pharmacists are also available in the evenings and overnight hours to provide medication advice when most pharmacies are closed. If you have a cold, flu, other viral infection or allergies for which there is no 'cure', ask these experts for advice about over-the-counter medications to ease your symptoms. Or ask your own community pharmacist, who may also be able to make an urgent medication refill.
For urgent concerns that can't wait
If your doctor is unavailable and there is no doctor-on-call for the clinic, go to a walk-in clinic or go to your nearest ER. Visit medimap.ca to view walk-in clinic wait times and any closures.


For an urgent medication refill, speak to your community pharmacist
For mental health concerns, those within the Fraser Health region from Burnaby to Hope have access to emotional support for mental health concerns through the 24/7 Fraser Health Crisis Line at 604-951-8855 or 1-877-820-7444.
For a child/teen mental health crisis, those within Fraser Health region can access crisis intervention services from the START program. Call 1-844-782-7811, Monday to Friday 9-9, Saturday and Sunday 12-9.
For an urgent dental concern such as a traumatic injury to the mouth or jaw, severe pain that can't be controlled with over-the-counter medications, swelling or ongoing bleeding visit BCdental.org and look for dental emergency. All dentists in B.C. are required to provide patients with emergency dental care when the need arises, either themselves or by making arrangements with another dentist.
For a possible poisoning or exposure to a toxic substance, call Poison Control at 1-800-567-8911.
Requests my colleagues and I hear every day:
I need an MRI and I have been waiting a long time. Your doctor will order an MRI if necessary and you will be placed on a waitlist. Coming to the ER will not move you up a waiting list – whether for a specialist referral or surgical procedure of any kind.
I forgot to get my prescription refilled. Rarely an urgent need. Your own doctor is the best person to determine whether a refill is okay, according to your personal health profile.
My blood sugar is always high and needs testing. Your doctor is the best person to manage your chronic diabetes and interpret any tests in light of your personal health profile.
I think I'm pregnant and need a test. Pregnancy test kits can be purchased without a prescription at any pharmacy.
My blood pressure is high. It can be dangerous to reduce blood pressure in the ER and rarely will we adjust your medications. Your doctor is the best person to manage any chronic conditions and to and interpret any tests they may order in light of your personal health profile.
I need something for this bad cough ER doctors and nurses do not have any cures for the viruses that cause colds and flus. A pharmacist can provide advice about over-the-counter cold and flu remedies.
I missed work yesterday and need a sick note. We cannot provide you a note for an illness you have suffered in the past.