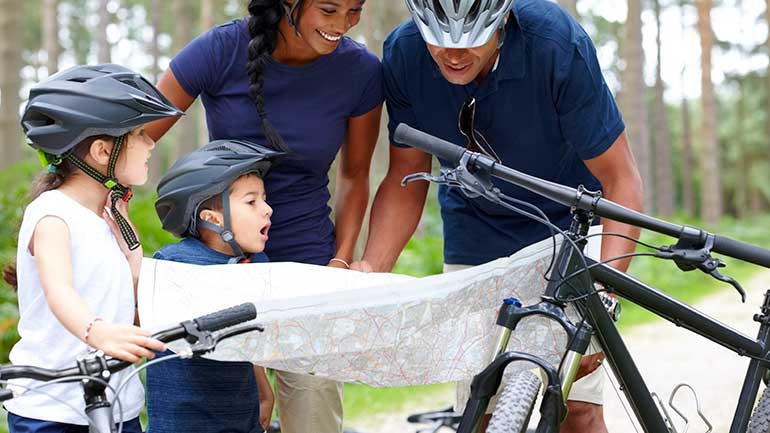 Spring is the perfect opportunity to get outside as a family and try something new.
Adults and children require physical activity for optimal health. Being active improves fitness, reduces the risk of many chronic diseases, strengthens muscles and bones, and improves mental health and well-being. Children are encouraged to live an active lifestyle that includes several hours of lightly structured or unstructured physical activities. Keeping kids active on the weekends and school breaks can help them return to school energized and ready to learn.
Here are some ideas to help your kids stay active:
Explore: B.C. is blessed with beautiful hiking trails and nature walks. There are trails available for different fitness levels and accessibility needs. Pack a picnic and find a trail in your community.
Adventure: Hold a treasure hunt. Set up scavenger hunts in the woods or use a smartphone for geocaching – hundreds of caches are hidden in the Fraser Valley.
Bike: Try a flat, family-friendly cycling route. Take a bike ride on Barnston Island, on a riverside trail in Fort Langley or around Mill Lake in Abbotsford. Check other routes at HelloBC.com.
Play: Check out a new playground. You can check your municipality's website for a list of nearby playgrounds, such as these pages from this cities of Surrey, Chilliwack and Abbotsford.
Swim: Many community centres offer free or low-cost public swims. Try one with fun features: South Surrey's Indoor Pool has a waterslide and children's pool.
Skate: Many local indoor rinks offer low-cost public skating with support frames for beginners such as Kensington Complex in Burnaby, the Surrey Sports and Leisure Complex, or Abbotsford's Rinks at Summit Centre.
Safari: Enjoy scenic walks with animal attractions. Try birding at Chilliwack's Great Blue Heron Preserve or Delta's George C. Reifel Migratory Bird Sanctuary.
Here are more ideas for you and your family to move and play together:
Create: Use a rainy day to teach kids how to cook healthy recipes. Find kid-friendly recipes on Canada's Food Guide website.
Jump: Get hearts racing with backyard jump rope, hop scotch or sidewalk double-dutch.
Climb: Kids love climbing. Take little ones to playground rock walls, find a local hiking trail with a challenging incline or offer older kids practice at indoor climbing gyms.
Stretch: Yoga is great for calming kids' minds and strengthening their bodies. On a rainy day, put on soothing music, stream a free session and get zen.
Perform: A few balls, hula-hoops and mats can become a big top circus ring.
For more tips and ideas to stay healthy and active this spring, visit fraserhealth.ca/springhealth.