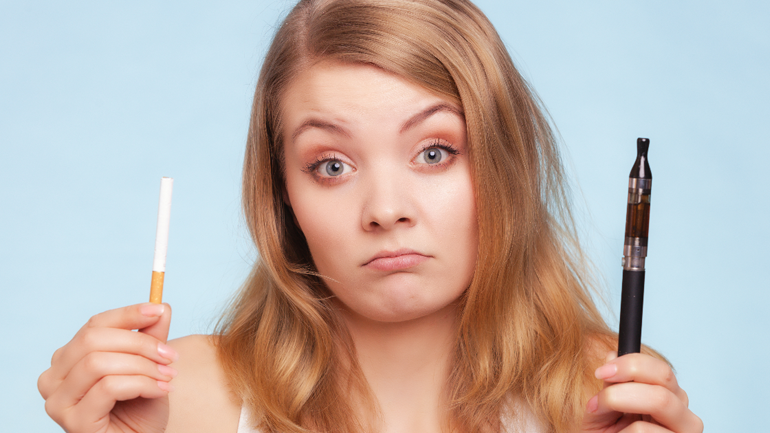 In recent years, there's been a significant increase in the use of electronic cigarettes (e-cigarettes), especially among people looking for an alternative to traditional tobacco.
But what do we really know about the effects of e-cigarettes? The truth is there are more myths than facts around this new method of nicotine delivery. We set the record straight and bust six of the biggest myths about e-cigarettes.
1. E-cigarettes will help me quit smoking.
We don't know. There is conflicting evidence as to whether e-cigarettes may have benefits for helping people quit smoking. Most people who use e-cigarettes continue to use tobacco. There are currently no e-cigarettes approved by Health Canada as a smoking cessation tool. If you are thinking about quitting, stick to what works. Nicotine replacement therapy (NRT) such as the patch, gum, lozenge, inhaler or mist can double your chances of quitting when used correctly. Speak with your health care provider or pharmacist to look at what option is best for you. The province's free QuitNow and the B.C. Smoking Cessation Program can help.
2. E-cigarettes simply produce water vapour and not any dangerous chemicals.
False. E-cigarettes do in fact emit chemicals. The vapour of e-cigarettes contains chemicals such as formaldehyde and propylene glycol. E-cigarette vapour has been found to cause throat irritation in both users and bystanders. The long term impacts of vapour inhalation and exposure are unknown.
3. E-cigarettes are not targeted to youth.
False. While e-cigarette companies claim that their ads are not targeted at youth and do not impact youth smoking rates, there remains concern. More than 25 per cent of Canadian Grade 10 to 12 students have tried e-cigarettes, while only 18 per cent of these students had tried a cigarette. Students are also confused about the safety of e-cigarettes. One in four students believe there is "no risk" of harm from using e-cigarettes, while 65 per cent of students believe there is "great risk" of harm from smoking cigarettes.
4. E-cigarettes don't contain nicotine.
False. Nicotine is the addictive substance contained in tobacco and although it is illegal to sell e-juice containing nicotine in Canada (the liquid used to produce the vapour from e-cigarettes), it is widely available. Because this is an unregulated area, the amount of nicotine in e-juice varies widely between brands and batches, so you may not really know how much nicotine you are getting.
5. E-cigarettes can be smoke anytime, anywhere.
False. Under new B.C. provincial regulations, e-cigarettes are treated the same as tobacco. E-cigarettes cannot be used in public places, workplaces, restaurants or within six metres from any door, window or air intake and on health authority property. Local municipalities may also have bylaws which further restrict their usage in outdoor public places, including patios, parks and playgrounds.
6. E-cigarettes are safe.
While we do know e-cigarettes are a safer alternative for those who would otherwise smoke tobacco, they are not without risk. E-cigarettes contain toxic chemicals and many of their ingredients have yet to be tested as safe for inhaling. At this point, there just isn't enough evidence to make a conclusion about the short and long term risks of e-cigarettes.
So think twice before lighting up an e-cigarette, particularly if you are not currently a smoker. The healthiest choice is not smoking at all and there are supports to help you quit. Visit QuitNow and the B.C. Smoking Cessation Program for free coaching, nicotine replacement therapy and support and check out our resources at fraserhealth.ca.