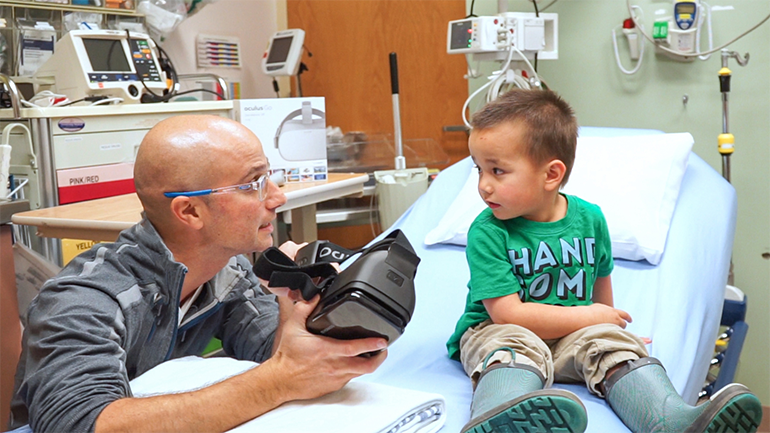 Peace Arch Hospital emergency physician Dr. Amir Behboudi explains how virtual reality goggles work to a pediatric patient.
Fraser Health is using technology to make the ER less scary and painful for pediatric patients.
Few places are scarier to a child than a hospital emergency room. They are injured or not feeling well, there are a lot of strange sights and sounds, and the people around them are likewise not well. But a Peace Arch Hospital emergency doctor is utilizing virtual reality (VR) technology and robots to make visits to the emergency room less scary and painful for pediatric patients.

"By looking to innovation to improve the health-care experience, we're finding new and creative ways to make going to the ER a more simple and comfortable experience for children," said Health Minister Adrian Dix. "Thanks to the use of virtual reality in the ER, children aren't coming in expecting something scary. Just imagine the uses for virtual reality — it has the potential to make things like getting stitches a better experience."

Dr. Amir Behboudi started using virtual reality headsets with children while giving them stitches and found the results were very positive. He also uses Pepper, an interactive robot, for children and families to play with in the Peace Arch Hospital waiting room as they wait for treatment.

"Our dream is for kids not to be afraid when they visit the ER," said Dr. Behboudi, a Peace Arch Hospital emergency physician and a clinical instructor in UBC's Department of Emergency Medicine. "There are simple things we can do to completely change the way they react to pain and to the hospital. We can take their attention away from the pain with VR. We know that distraction works. The brain can get fooled when multiple inputs are coming in."

Dr. Behboudi is also studying the impact of VR distraction on children. He has a passion for making kids' experience in the emergency department better, and has expanded the use of VR from children's cuts to lab tests, IV insertions, treating sprains and even for minor plastic surgery procedures. One study about children using a VR headset for 15 minutes during IV insertion shows it significantly reduced the child's reported levels of anxiety.

Inspired by a Peace Arch Hospital initiative to create a more child-friendly facility, Dr. Behboudi put his idea into practice during the 2017 winter holidays when he stitched up a young girl's hand laceration while she wore a VR headset and watched a rollercoaster simulation. Almost instantly, she was calmer, remained still for the treatment, and not crying or fearful.

The technology he uses is inexpensive and mass market: a VR headset retailing for as low as $40 and is paired with a basic $200 smartphone loaded with VR experience apps. He is interested in trialing a newer version of headset, which offers more immersive experiences.

"It's kind of a no-brainer to give this to a child. It's cheap, it doesn't take much time, and their whole experience completely changes," said Dr. Behboudi, a father of two himself. "Harvard did a study and found young kids actually thought they had gone to amusement parks when asked about what they did the day before, and did not dwell on hospital trauma."

He worked to duplicate the Peace Arch Hospital trial at BC Children's Hospital, partnering with children's pain specialist Dr. Ran Goldman, who was enthusiastic about the work and was soon using it and studying the results with his own patients.

Dr. Behboudi wants a child's positive experience to start as soon as they enter the hospital doors. This is why he also introduced Pepper. Children can dance with the interactive robot, they can ask it questions, and it can play music and relay information to the children. He is working with other emergency rooms in Fraser Health, including Surrey Memorial and Abbotsford Regional Hospitals, to brief them on the study and VR technology applications.
Media contact
For media inquiries, please contact:
media@fraserhealth.ca