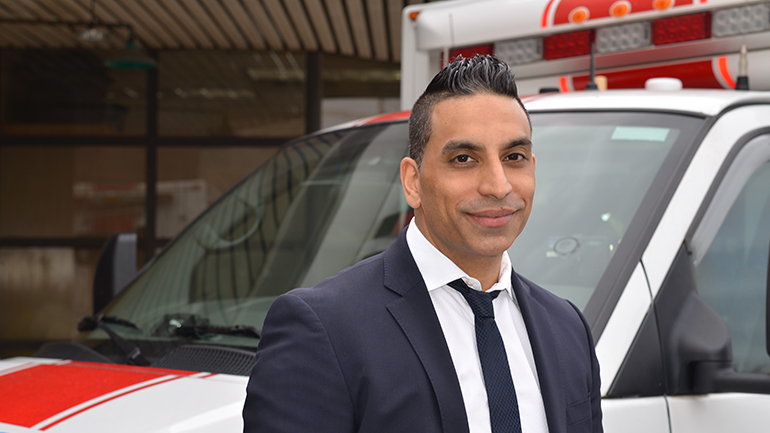 Peace Arch Hospital's new emergency department will be a place where employees will have the space and equipment to do what they do best - provide great patient care.
Jessie Saran is excited to work in the new emergency department coming to Peace Arch Hospital, a care facility with compassionate employees and a deep sense of community.
As Peace Arch Hospital undergoes an expansion to build a new emergency, Jessie, the department's manager, says he looks forward to the completion of the project that will see patients receive the care they need in an environment that is more private and less prone to congestion.
When planning the new space, Jessie and the team knew the importance of creating a layout that would help to reduce wait times and keep patients moving forward.
"We had a vision in mind how patients would move through the building," says Jessie. "Sometimes when you visit an emergency department, you can go back and forth from one station to another. When patients come to the new emergency at Peace Arch, they will come in one door and leave through another."
As patients arrive at the new emergency department, they will enter a space that is easier to navigate and directs them to where they need to go faster. According to Jessie, the new triage and registration area will serve as a one-stop shop for patients to tell their health story once, as patients will be both registered and assessed by a nurse at the same time.
"In the new emergency, we come to the patient. We will have registration and triage sit side by side, which allows us to be very patient focused and more connected as the patient's health-care team. The triage experience for both the patient and for our staff is to be more coordinated and as quick and efficient as possible."
For Jessie, one of the most exciting parts of the new department will be the 50 new single-patient treatment spaces, a significant increase from the 24, where space is tight and often health-care providers and family members cannot all fit. The new layout and individual treatment spaces will also provide more privacy for patients.
"Having an individual room allows patients to focus on getting better without being distracted by their surroundings. It makes a world of difference for patients to be able to speak openly with a physician or family members without fear that someone might overhear that conversation. The individual rooms will definitely improve the patient's experience."
Jessie and the team take great pride both professionally and personally, in the amount of time and work that went into the planning of this project. "We toured a lot of emergency departments and talked to quite a few people. We knew this engagement was really important not only for the community but also for ourselves, as we take our families to this hospital."
Jessie is excited to work alongside an amazing team to support patients in an emergency department that is more spacious, modern and private. "We know that coming to an emergency department can be very stressful for people. Our new emergency department will be a great positive step towards making the experience more seamless and comfortable for them."
The expansion and upgrades at Peace Arch Hospital are part of Fraser Health's commitment across the region to modernize our health care network, build capacity and improve timely access to quality, patient-centred care closer to home.
Interested in joining Jessie and the team at Peace Arch?
Check out current career opportunities at Peace Arch Hospital and join this exceptional team.
Learn more about the Peace Arch Hospital emergency expansion and upgrades project.