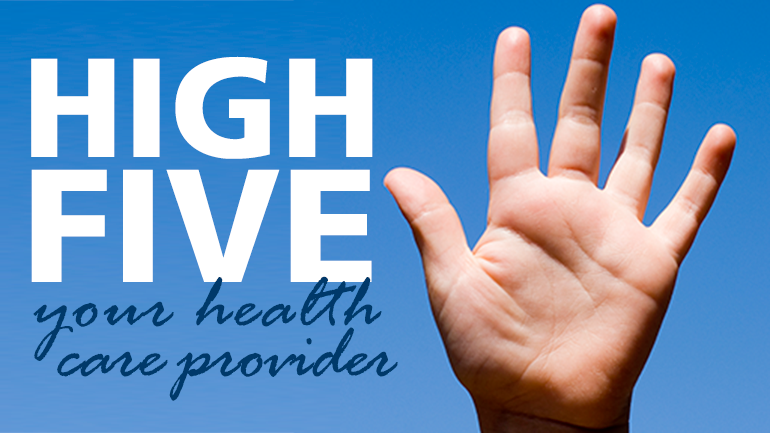 This week's high fives go to our amazing staff at Eagle Ridge, Ridge Meadows, Royal Columbian and Surrey Memorial hospitals.
Want to send a high five to your health care provider or Fraser Health team member? Leave a comment below or e-mail feedback@fraserhealth.ca.
You really care about all people. I spent a few hours there. From the moment I was asked to go to pre op, I knew I was in amongst a group of world-class professionals. My operation was smooth and post-op was great. Everyone was caring and helpful.
For Ridge Meadows Hospital
During my time in ICU and 3W (the staff) care and caring was helpful and exceptional - it makes a huge difference in how a recovering patient feels! Keep up the good work!
For Royal Columbian Hospital
My mother had to be admitted to the Emergency Department at the Royal Columbian Hospital. During that time and for many days after when she went finally up to the palliative care unit, there were so many people that helped along the way and were so kind!
For Surrey Memorial Hospital

---
I wanted to give a shout-out to the ER staff in pediatrics at Surrey Memorial Hospital. January 15, we came in just after 7 p.m. with my 14-year old son who had broken his wrist at hockey. We were treated and released by 11 p.m. I think considering the volume they had in the waiting room, we were dealt with in a very timely manner. Every person we had from the doctors and nurses, to the respiratory therapist, to the X-ray techs, to the porters, were outstanding. Very kind, warm and compassionate.
We mostly dealt with the resident doctor. I was very impressed with him. Extremely professional and knowledgeable while being personable, which put my son at ease. He took time to explain everything that was happening, what I was to expect and asked if I have any questions. He was very thorough through all the exams and didn't make us feel rushed. I felt completely confident in him caring for my son.
We had a few different nurses throughout the night and each one of them were great. One male nurse even had us laughing, taking the ease off the situation. [The staff are] professional, hard-working and compassionate. They all deserve massive kudos for their work and professionalism. It is our second visit to this ER and I have been nothing but blown away with the employees both times. Words cannot express my appreciation.