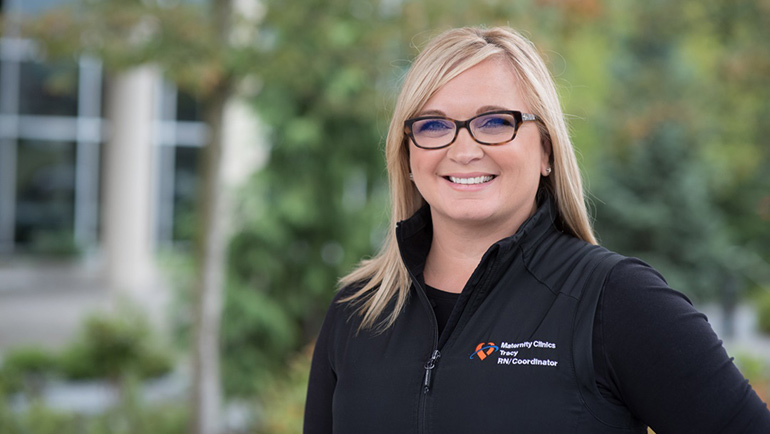 Preparing to welcome a new life into the world is often an exciting and nerve-wracking time for parents-to-be.
For Maternity Clinics Coordinator Tracy Messmer, working with expectant patients and care providers in the Maternity Clinics at Jim Pattison Outpatient Care and Surgery Centre in Surrey is both a passion and a calling.
"I have always enjoyed caring for people, even as a young girl," Tracy says. "I always knew I wanted to work in health care."
Tracy completed her nursing diploma at Kwantlen University before completing her Bachelor of Science in nursing at the University of British Columbia. She then went on to British Columbia's Institute of Technology's perinatal program to complete a low and high risk labour delivery speciality.
After 16 years working as a nurse in labour and delivery as well as in ante-partum (the period before childbirth), Tracy transitioned to the maternity clinics coordinator role in 2012 with a keen desire to support direct care clinicians.
The Maternity Clinics at Jim Pattison Outpatient Care and Surgery Centre in Surrey are dedicated to providing ante-natal care, post-natal care and health services to expectant women, most of whom have high-risk pregnancies. "My role is to coordinate the daily activities of the clinics," Tracy says. "I support physicians, clinicians, unit clerks and aides and I collaborate with other areas of maternity care services—whether that's another hospital or physician's office or pharmacy— to ensure the best care possible for patients."
"Tracy's job is a busy one, but not only has she has done it with exceptional ability, she collaborates on crucial projects that go beyond her role," says Chris Hotz, manager of maternity clinics at Jim Pattison Outpatient Care and Surgery Centre in Surrey and Peace Arch Hospital. One example of this was the creation of the first ever Early Pregnancy Assessment Clinic in Fraser Health.
Opened in 2018, this clinic provides care for women with complications in early pregnancy and pregnancy loss. "The idea came when we recognized that women in our region who were in their first 13 weeks of pregnancy, who experienced complications did not have anywhere else to go but our Emergency Department," Tracy explains. "Within this clinic, they connect with a registered nurse and obstetrician to receive immediate diagnosis and a plan to assist them in their journey."
Tracy was a key member in the working group to launch the clinic: finding the physical space, bringing on clinicians and nurses and collaborating with BC Women's Hospital, Surrey Memorial Hospital, Surgical Services, Jim Pattison Outpatient Care and Surgery Centre in Surrey leadership team, the foundation and others to bring it to fruition.
"You just can't do it with one person," Tracy says. "We need other people's strength and ideas. In a world where things are getting busier you have to come together to find solutions and not stay in the same box."
Tracy's focus on building relationships and her approach of being curious and eager to learn from others has helped shape better patient care. "Tracy comes from a place of kindness and respect for others which I believe is a key factor in her successful collaborative work within her role and beyond," says Dr. Jason Burrows, Fraser Health's regional department head of obstetrics. "Through her ability to partner and her collaboration with others, she has advanced integrated and coordinated obstetric service delivery for women across Fraser Health."
Tracy is the recipient of this year's Above and Beyond Best Collaboration Award.