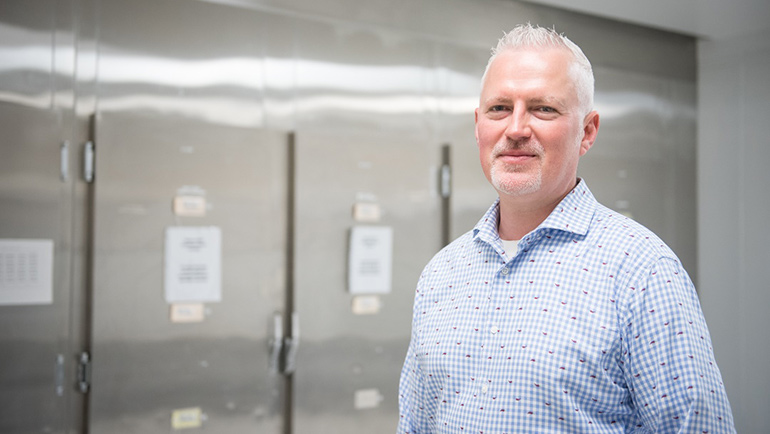 Regional Morgue Coordinator Ian Murray oversees the process for providing post-mortem care for individuals when they die in one of Fraser Health's hospitals or community services.
There are many different processes and partners involved in the care of a deceased patient, from registration services who completes death records to local funeral homes who take care of the body once it is released from a site. BC Coroners Service also partners with Fraser Health to conduct autopsies at select sites. "I act as a liaison between different groups and I provide direction for flow and capacity," Ian explains.
When asked about his career decision, he explains, "A lady who was like my second mother passed away when I was quite young. I felt that helping people was something I enjoyed, so after she passed I decided to volunteer for a hospice organization. I ended up doing an apprenticeship at a local funeral home."
When he came to Fraser Health in 2017, Ian immediately set to work to optimize capacity and flow for post-mortem services, which entailed building relationships at each site across the region, with BC Coroners Service and with local funeral homes.
"Ian's collaboration is strong among the sites and evident in the relationships he has built," says Site Services Manager Jill McIntosh, Ian's colleague who nominated him for the award. "He has also developed an excellent relationship with our external stakeholders such as the BC Coroners Service and local funeral homes. Since he came into this role, we have benefited from his excellent planning and pre-emptive work, which means we have plans for capacity and flow across the region."
Ian also played a key role in the creation of a partnership between Fraser Health and BC Coroners Service in the shared usage of portable morgues. The portable morgues have been used during morgue upgrades and to provide temporary capacity support.
When asked how he maintains resilience in his work, Ian responds, "There are some tougher days, but what makes it easier is I work with a great team. I am very fortunate to have met and be supported by such tremendous people across the sites."
"Thanks to Ian's great work, the morgues in the region are better equipped to handle flow while also providing dignity to the patient and support to their family," says Jill. "His role provides a broad regional support to all the sites. Ian is not only an exemplary employee in his day to day work, he goes above and beyond every day to treat others well. I have personally witnessed how he treats his colleagues and how he is always willing to go out of his way to offer a helping hand to patients and families. This is why he is deserving of this award."
Ian is the recipient of this year's Above and Beyond Best Collaboration Award.