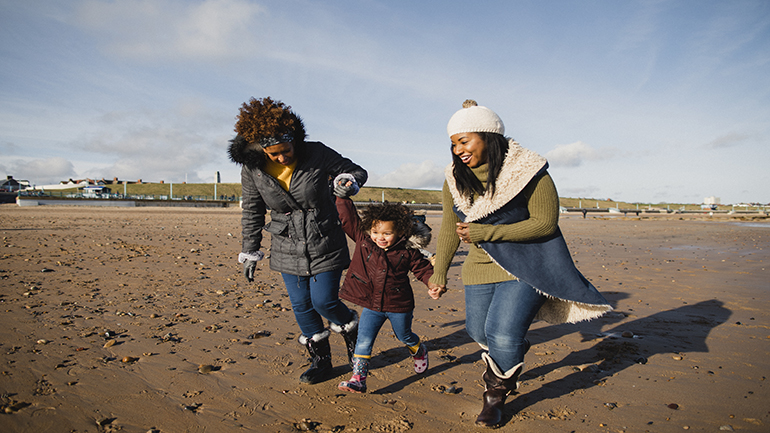 Relish winter's shorter days, longer nights and colder temperatures by connecting with your family and friends and enjoying physical activity together: walking, playing and exploring outside all season long.
Put on your toques and gloves. Play games with your family outside in winter. Play supports healthy child development and promotes strong connections with your family. Try classics like hide-and-seek or duck, duck, goose. For more game ideas like sardines and screaming banshees, visit Live 5210.
Spend a day at your community recreation centre. Try ice skating, public swimming, get in the gym for a game of tag or family game of basketball or join a tot romp play group with little ones.
Get active with art. Walk through an art gallery with your family and friends: get exercise and experience art at the same time. At the Burnaby Art Gallery entrance is by donation, the Surrey Art Gallery entrance is free and the Vancouver Art Gallery offers entrance by donation Tuesday evenings.
Head for the hills. Take your family to a local hill or mountain and go tobogganing, try snow shoeing or skiing. Get active and build a snowman, a fort or an igloo.
Be an outdoor explorer. Take a brisk walk and explore a new neighborhood together with family or friends. Discover shops, restaurants and playgrounds. Try wandering Port Moody, Fort Langley, or South Surrey for some new scenery. Or, go on a holiday light safari walking in your neighbourhood to view seasonal displays, or design a winter scavenger hunt with items such as holly leaves, acorns, pine cones and icicles.
Improve your environment and your health. On your next long family walk bring along garbage tongs, gloves and a trash bag and clean-up a park or street.
Get creative about getting off screens. Even if you have to stay indoors, that doesn't have to mean staying inactive. Do yoga with your kids in the living room, hold a dance party, build an obstacle course with pillows, fly paper planes and chase them. Read more ideas for 100 screen-free activities you can do with your family.
Go puddle jumping. Rainy winter days are made for this. Put on rain boots, grab an umbrella, and take a nature hike where it's okay to get muddy. Try the Ladner Marsh trails or Reifel Migratory Bird Sanctuary. Combine puddle jumping with bird watching or winter beachcombing.
For more health advice about staying healthy all winter long, read our Healthy Winter Guide.