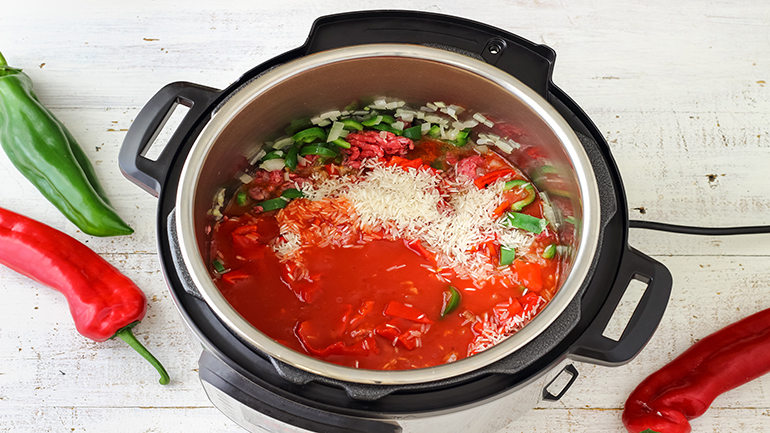 As we head into sweater weather, with colder days ahead, many of us look forward to a warm comforting meal at the end of the day.
Yet cooler-weather recipes are often labour intensive and can be loaded with extra fats, creams and sauces, which can affect our health.
If you are a busy parent or working professional, cooking a healthy meal after a long day may seem like another chore you'd rather avoid. But what if you could have a hot homemade dinner on the table in under 10 minutes? Enter the instant pot.
A dietitian colleague introduced me to instant pots. I was skeptical to join the 'cult' and thought this might be one more gadget taking up counter space. But I gave in, got one and have never looked back since. I am a proud owner of two instant pots now and use it almost everyday day. Read on to learn more about this trendy kitchen gadget that can help you cook ahead and in a fraction of the time.
What is an Instant pot?
First off, Instant pot or Instapot is a brand. There are many similar products with different names, but the same functions: it is essentially a programmable electric pressure cooker with additional built-in functions.
Generally, there are three different sizes: a three, six and eight quart version, with accessories available to purchase. The six-quart model can serve enough for three to six people, or a family of four with some leftovers for lunch. The device even has a sauté function that allows you to cook one-pot dishes, braising meats or vegetables first in the same pot. Cooking with an instant pot can help you prep and plan your meals in advance.
What about nutrition?
A common belief is that pressure cooking destroys the nutrients in food. That's a myth. Pressure cooking is actually a smart way to preserve maximum nutrients. Pressure cooking uses less water, increases temperature quickly and evenly, so there is minimal loss of liquid and less time exposed to heat, allowing the food to retain nutrients, colour and flavour.
Aside from the preserving nutrients, an instant pot allows you to create comforting – but healthy – soups and stews into your meals to supercharge your health, as you can use less salt, fat and sugar than in store bought versions. Soups and stews are a great way to increase vegetables in your meals Warm weekday dinners seem much more doable with a well-stocked pantry and a bit of planning. Keep these ingredients handy so you can put together delicious, almost-instant weeknight meals.
From pantry to pot: What to keep in stock for your instant pot
Dry Goods
Canned Goods
Sauces/oils/spices
Vegetables

Rolled oats/Steel cut oats Dry beans (black, garbanzo, cannellini, kidney, navy)

Lentils Pasta (assorted whole wheat/whole grain)

Rice (brown, long grain, jasmine, basmati, wild rice)

Grains (couscous, quinoa, farro, barley, bulgur, freekeh)

Canned tomatoes, paste, low salt

Tomato sauce Beans: black, kidney, chickpeas, white beans

Reduced sodium broth (vegetable, chicken, beef)

Coconut milk (light)

Pasta sauce

Pesto (basil, sun-dried tomato)

Olive oil

Cooking oil

Vinegar (balsamic, red wine, white)

Spices (cumin, curry powder, cayenne, paprika, turmeric, garlic)

Dried herbs (bay leaves, basil, oregano, thyme)

Reduced sodium soy sauce

Potatoes

Winter squash (butternut squash)

Root vegetables (beets, carrot, parsnip, turnips)

Sweet potatoes
Don't forget about stocking your refrigerator and freezer too. Having basics like low fat milk, plain Greek or low fat yogurt, low fat cheese, eggs, firm tofu, frozen meat (chicken legs/thighs, sausage), and frozen vegetables (carrots, peas, mixed vegetables, edamame) on hand.
Here is a healthy, tasty, dietitian-approved recipe to help you get your next warm nutritious winter meal on the table in an instant. It's easy to throw in a couple extra servings of vegetables into your instapot too. Try one of these 50 dietitian-approved recipes.
Instant pot turkey and sweet potato chili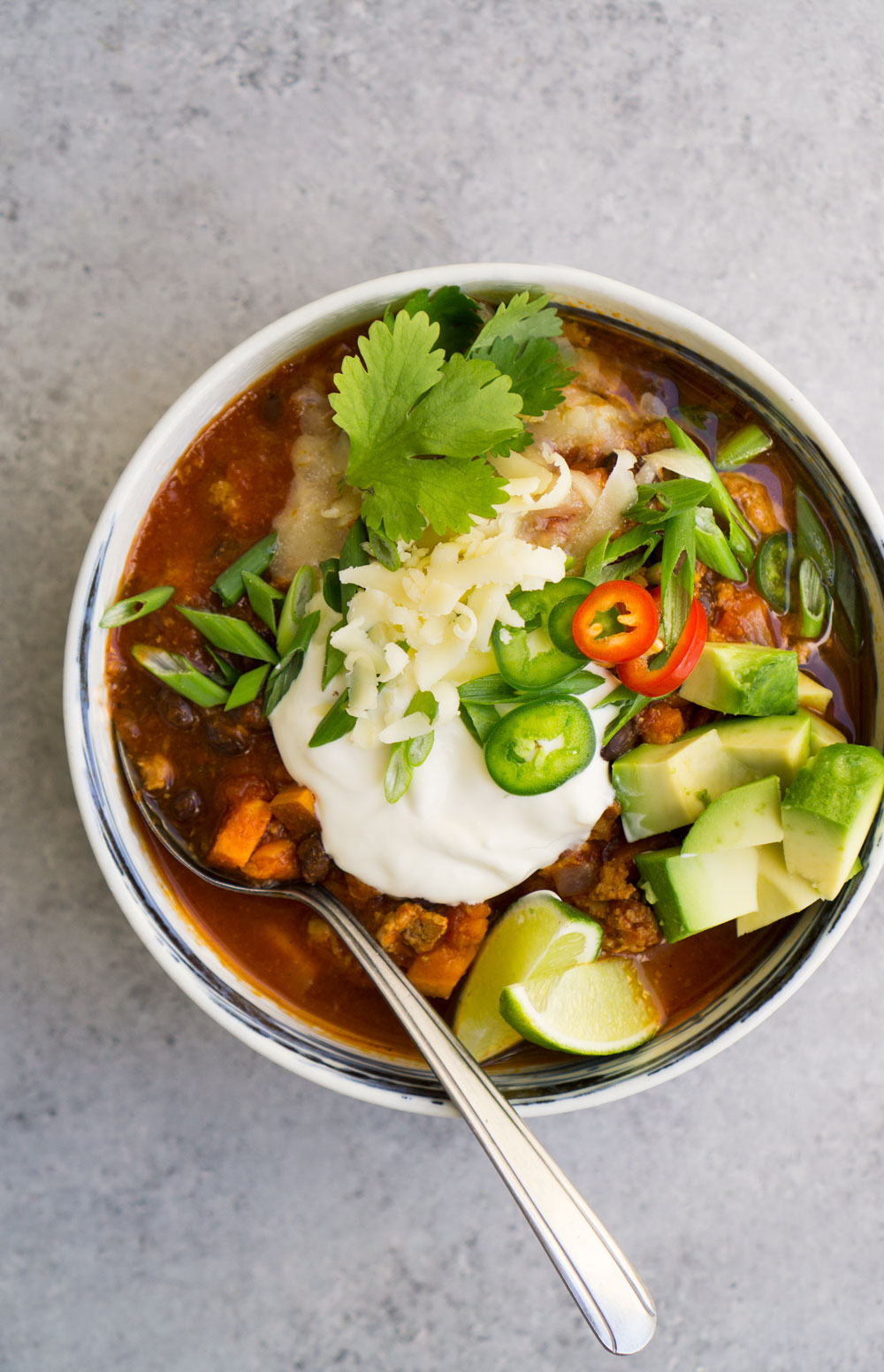 Ingredients:
1 tbs. olive oil
½ onion, diced
2 cloves garlic, minced
1 lb. lean ground turkey
1 tbs. chili powder
½ tsp. paprika
½ tsp. ground cumin
1 tsp. salt, plus more to taste
1 ½ lbs. sweet potato, diced into ½ inch dice
28 oz. can low salt crushed tomatoes
1 tsp. tomato paste
½ cup low sodium chicken broth
1 15 oz. can of black beans, drained and rinsed
Option to add extra vegetables such as: ½ cup corn, ½ cup carrots, ½ cup celery, ½ cup peas, ½ cup bell pepper, ½ cup zucchini, etc.
Assorted garnishes: avocado, cilantro, green onion, low-fat cheese, low-fat sour cream, jalapenos
Instructions:
Using the instant pot sauté function, add the olive oil and onion and cook one to two minutes until the onion softens.
Add garlic and lean ground turkey. Brown the turkey for two to three minutes.
Add the chili powder, paprika, cumin, salt, sweet potatoes, tomatoes, tomato paste and chicken broth. Stir well to combine.
Add the lid to the instant pot and using the manual function set the timer to 12 minutes. Let the pressure release naturally for 10 minutes, after cooking then manually release the pressure.
Fold in the black beans, add a pinch of salt to taste and serve warm with assorted garnishes. Serves four to six people.
Source: Recipe adapted from amandafrederickson.com.