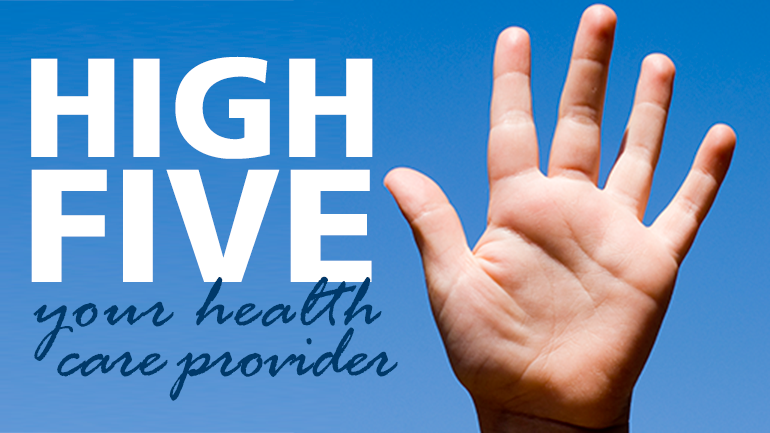 This week's high fives go to our amazing people at Burnaby, Peace Arch, Surrey Memorial, Chilliwack General, Royal Columbian and Langley Memorial hospitals, Tri-Cities Home Health and Surrey Youth Clinic and Fraser Health environmental health officers.
Want to send a high five to your health care provider or Fraser Health team member? Leave a comment below or email feedback@fraserhealth.ca.
For Burnaby Hospital
I would like to place on record my appreciation to both the staff and Dr. Yu of the Pain Clinic at Burnaby Hospital for their caring and pleasant attitudes towards me when I attended. A big thank you to them all.
I would like to praise the staff on unit 4D at the Burnaby Hospital for their care and attention during my recent stay. A very special thank you so very much to nurses Larni, Christie and Marilynn who encouraged me and kept me comfortable. I will remember your gentle care and cheerfulness, which will make good memories of an otherwise stressful and upsetting situation. Thank you again.
---
For Tri-Cities Home Health
I would like to acknowledge Negar for her service as our Case Manager.
We were first introduced to Negar shortly after my mother-in-law moved in with us as Negar came out to do a home visit and assess her needs and determine what services Fraser Health could provide. Negar was very professional and friendly and really took the time to talk and ask her questions making her feel like she was being heard.
We can't thank Negar enough for everything she has done to help us transition her to our home and to the programs/services available. Whenever I needed to reach out to Negar she has always been extremely prompt in getting back to us providing us with the best support/service possible. I will miss having Negar as our Case Manager as she is excellent at her job. She really does care for her clients and is there when we need her.
Fraser Health is very fortunate to have Negar working for them as she is an exceptional employee who really does takes care of her clients.
---
For Fraser Health environmental health officers
The team from the City of New Westminster find the staff at Fraser Health to be an absolute pleasure to work with. The manager and environmental health officers are very professional, quick to respond and always helpful.
---
For Peace Arch Hospital
I just brought my nine-month-old daughter to Emergency at Peace Arch after she had a fall off our kitchen counter. I wanted to send my thanks to the staff at Peach Arch Emergency for how lovely they were with our daughter.
Dr. Lampen was very thorough and took the time to carefully examine our daughter and answer all our questions. All the nurses were wonderful as well. We were seen very quickly and it took less than 2 hours from entering the hospital to being discharged. We really appreciated the care!
---
For Surrey Memorial Hospital
My mom had a very brief stay in the Palliative Unit at Surrey Memorial Hospital before passing. During her short time there she received exceptional care. In particular, I would like to compliment and share my sincere gratitude towards Inder, Joy and Dr. Mitri as they demonstrated outstanding professionalism and genuine empathy. They allowed my mom to pass with as much dignity as possible given the situation. Our family appreciates you immensely.
---
For Chilliwack General Hospital
I'd like to pass on my thanks again to the staff and doctor at Emergency in the Chilliwack General Hospital. I brought a book to read, but decided it was more fascinating to watch your incredible, cohesive, and extremely competent staff deal with such a diverse group of patients today. I saw professional compassion and watched their interactions with each other.
I would like to pass on to the staff in Emergency today, and the doctor on call that I saw, a huge thank you; and how much I enjoyed watching how well they worked together, and how efficient they all are. Each and every one of them. I know that staff need recognition for excellence in their work, and this crew today especially deserves it. We were all in good hands.
---
For Royal Columbian Hospital
I want to thank the both lovely Dr. K. Stockton and the attending nurse. Being a transgender not all emergency room visits have been positive for me in the past. They both made a very anxiety inducing situation into something that seemed manageable and their demeanor with me was relaxed and positive for the situation. I felt like I could talk to them both and actually was listened to and loved the acceptance they both gave me. I heard Dr. Stockton correct a nurse who used my non-preferred name. I know they both work difficult jobs and I just wanted them to know how much better they made that whole experience for me. Thank you.
---
For Langley Memorial Hospital
Our son spent a lengthy stay in Critical Care South on the second floor of Langley Memorial Hospital where he received outstanding care and attention from Sandy. She was consistently checking and following up on the different machines and procedures that needed to be done on our son while attending to all the other patients' needs. No detail was too small! We really appreciated the outstanding care she was able to provide. Thank you!
---
For Surrey Youth Clinic
I was client about 15 years ago at the Surrey Youth Clinic. This is an email I have been meaning to write for years.
My sincerest thank you to the staff there. The receptionist, the many nurses and Doctor's and especially, social worker. All of you ladies helped me help myself to turn my life around from struggling with substance use, childhood trauma, sexual health, and reproductive health. The non-judgemental, supportive and knowledgeable environment helped me deal with the many issues I had at that time.
Today, I am a proud mother of a three year old girl. I take care of my nephew. I have a great job and I am also going into my third year of post-secondary. You were the lifeline that I needed. Your work matters and it truly changed my life. Thank you so much.