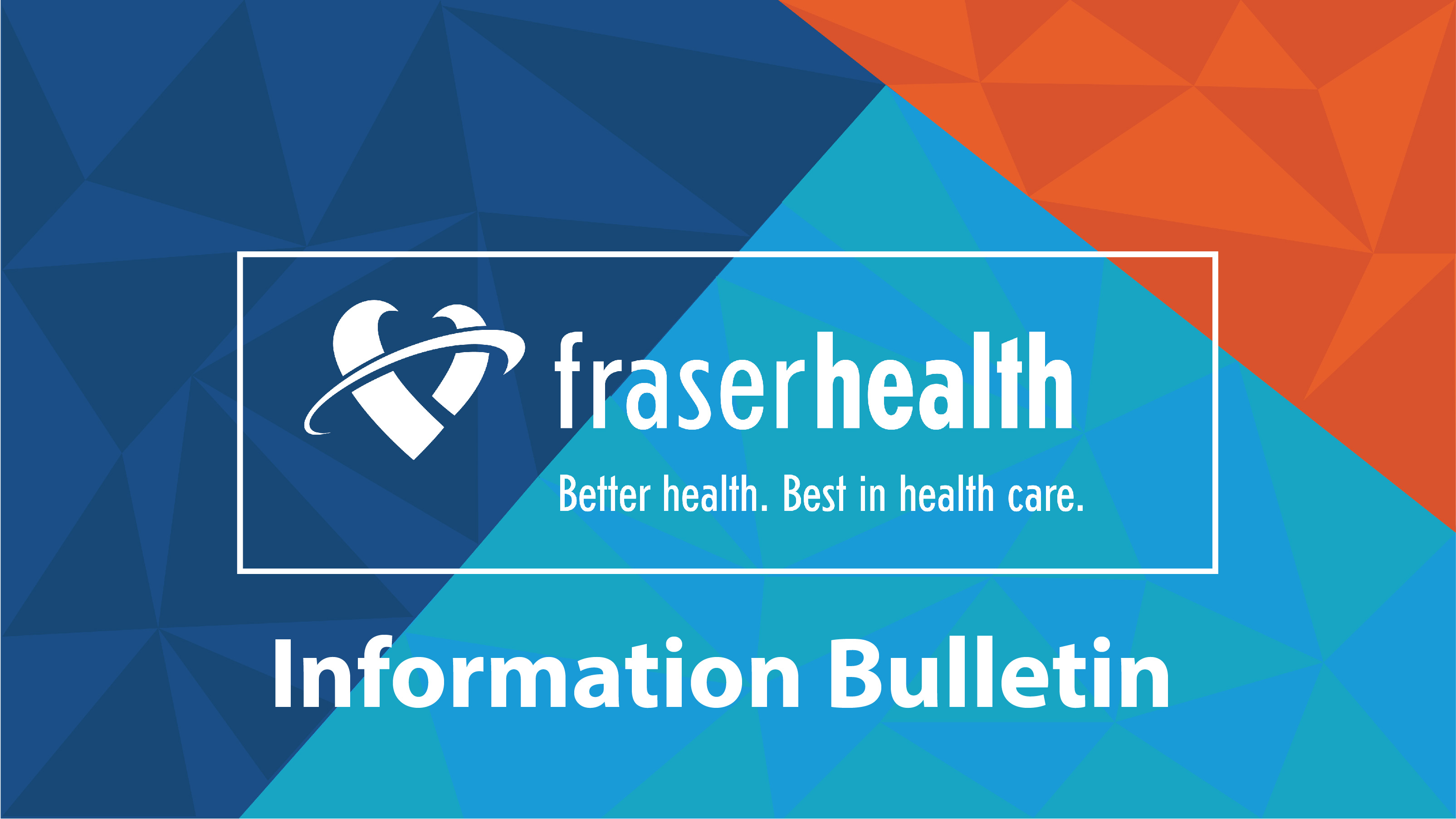 Long term care:
Fraser Health has declared that a COVID-19 outbreak is over at Langley Lodge, a long term care facility owned by the Langley Care Society. Fraser Health has implemented comprehensive strategies to prevent and respond to COVID-19 in long term care, assisted living and independent living facilities, and there are no longer any COVID-19 cases at this site.
While Fraser Health continues to make progress on outbreaks throughout the region, there is one new case at each of the following long term care facilities: Valhaven Home and MSA Manor.
A resident at Valhaven Home, a long term care facility in Abbotsford operated by Tabor Home Society, was diagnosed with COVID-19. The resident is in isolation at home in long term care.
A staff member at MSA Manor, a long term care facility operated by Maplewood Care Society, was diagnosed with COVID-19. The staff member is in isolation at home.
With each outbreak, a Fraser Health SWAT team supports the site and enhanced control measures are put in place. Fraser Health is working with staff at Valhaven Home and MSA Manor to identify anyone who may have been exposed and is taking steps to protect the health of all staff, residents and families. Communication with residents and families notifying them of the outbreaks is complete.
To prevent transmission of COVID-19, Fraser Health is ensuring staff currently working at Valhaven Home and MSA Manor will not be working at any other facility.
Fraser Health has proactively implemented the following:
Staffing levels will be maintained to provide resident care.

Visitors have been limited to only essential visitors.

Staff and residents movement in the facilities has been restricted.

Cleaning and infection control measures have been enhanced.

Residents, families and staff are being notified.

Twice a day screening of all staff and residents.
During this time, Fraser Health will have a presence at the sites to take any further actions required and support the facilities. This includes dedicated people to address quality, answer questions from staff, residents and family, and provide active checks of symptoms with staff and residents.
To prevent and respond to COVID-19 in long term care, assisted living and independent living facilities, Fraser Health has also deployed more than 200 people as part of our rapid action teams which include clinical nurse educators, infection prevention and control experts, screeners, and patient care quality officers supporting with communication to families and assessing symptoms at the site. Through these teams, sites are also connected with emergency supplies and additional personnel if needed. Since the public health emergency was declared, Fraser Health has seen limited to no transmission of COVID-19 in facilities that have had outbreaks.
Superior Poultry Processors Ltd.:
To date, 25 employees of Superior Poultry Processors Ltd., a poultry processing plant located at 2784 Aberdeen Avenue, Coquitlam, BC, have tested positive for COVID-19. To date, Fraser Health has tested 236 employees of the facility, as well as 73 close contacts. Case and contact management is ongoing.
Those identified as cases and close contacts have been instructed to self-isolate. Fraser Health issued a public health order to close the facility on Friday, April 24, and the facility will remain closed until the conditions of the order are met.
COVID-19 testing:
B.C.'s testing COVID-19 strategy has been expanded to include anyone with cold, influenza or COVID-19-like symptoms, however mild.
While testing has expanded, not everyone needs a test. COVID-19 testing is not recommended for people without symptoms. The symptoms of COVID-19 are similar to other respiratory illnesses including the flu and common cold. They include: fever, chills, cough, shortness of breath, sore throat, painful swallowing, stuffy or runny nose, loss of sense of smell, headache, muscle aches, fatigue, and loss of appetite.
If a person tests positive, they will be contacted by public health officials. Anyone seeking COVID-19 testing should be self-isolating until they receive a negative test result. Most results are available within 24 to 48 hours of the test.
Testing can be done through a primary care provider, walk-in clinic, urgent and primary care centre or community collection centre.
A person can contact their physician or nurse practitioner's office, or a local community collection centre to arrange for a test. Phone numbers and locations of collection centres in Fraser Health can be found by visiting the BCCDC website or by calling 8-1-1.
For more information about COVID-19, please visit fraserhealth.ca/covid19.
For media inquiries, please contact:
media@fraserhealth.ca