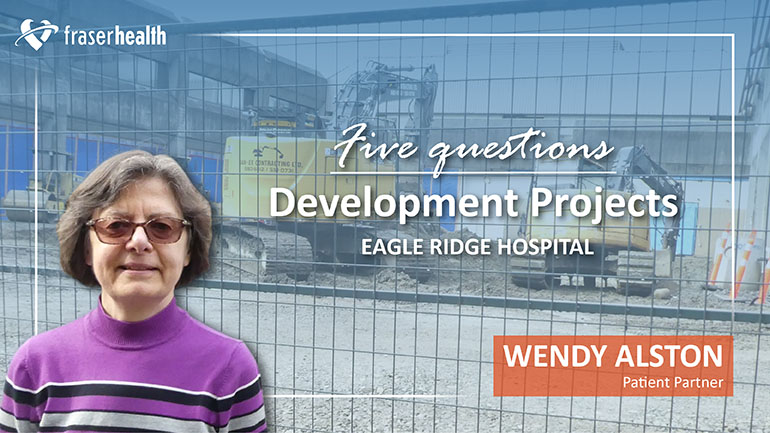 Eagle Ridge Hospital's emergency department is expanding. To find out more about this exciting project, we spoke with Wendy Alston, a patient partner at Eagle Ridge Hospital.
Q1: Can you share a little about what patient partners do and about your role at Eagle Ridge Hospital?
Patient partners, also called patient advisors, are volunteers who are involved in all kinds of initiatives because we've had first hand experience with things like palliative care, cancer, or in my case, delirium. A patient partner represents the voice of the patient, the family or the caregiver and consults with health care professionals to help improve care within their area of experience.
For the emergency department expansion and upgrades project, I attend weekly meetings where I consult with health care providers from all kinds of disciplines and offer my thoughts and feedback to make sure that the patient experience is kept in mind. The Eagle Ridge Hospital team is really great about ensuring that they are engaging patients and families.
Q2: What made you decide to become a patient partner?
My mom developed prolonged delirium in the hospital, which eventually led to her decline. A couple of years after she passed, I saw a request from Eagle Ridge Hospital for patients, family members or caregivers who had experience with delirium to participate in a quality improvement project. I thought, "This is it, this is how I can help to make things better for other people." I connected with the Eagle Ridge Hospital team and it has been an amazing experience.
Q3: Tell us about the Eagle Ridge Hospital emergency department expansion and what excites you about this project?
It's exciting to see how the department is being redesigned to improve things for patients and create an environment that does not add to their stress. An example is the new registration area, where patients will be able to share information with a triage nurse in spaces that are more private. The new design also focuses on things like lighting that can be dimmed in certain areas to help provide a calm environment. Improved wayfinding is a priority so people know where to go to get the care they need or connect with a family member who may be in emergency, as quickly as possible.
Q4: What do you think is meaningful for patients and families when visiting an emergency department?
That a hospital emergency department is easy to find and navigate, and that it's as comfortable and as stress free as possible. No one wants to go to emergency, but if they do, it's sometimes the simple things that matter most. Having things like accessible wheelchairs and handwashing stations will all help to create an environment that accommodates the needs of our patients and their families. Even just having comfortable seating can positively affect someone's experience, especially if they are older. I think the new department is going to achieve these things.
Q5: What should someone know if they are considering volunteering as a patient partner for a project like this?
People should know that their thoughts, feedback and experiences are important and that they need to be shared. If someone has had a great health care experience, we need to know so we can replicate it. If someone has had a negative experience, we can learn from it to improve how we provide care. Patient feedback helps us to inform new programs, services and projects, which all make a big difference in the health of our communities.
Being a patient partner is an opportunity to collaborate with passionate people who want to make change. It's rewarding to bring my experience forward and to see real improvements being made so that people have a meaningful health care experience not only at Eagle Ridge Hospital, but at other health care facilities across the region.
---
The expansion and upgrades at Eagle Ridge Hospital are part of Fraser Health's commitment across the region to modernize our health care network, build capacity and improve timely access to quality, patient-centred care closer to home. Learn more about the Eagle Ridge Hospital emergency expansion and upgrades project.
Learn more about how you can become a patient partner/advisor and use your experiences to improve the health care system.
Check out career opportunities at Eagle Ridge Hospital and join this exceptional team.
Follow our progress
Stay up to date on all our expansion and renovation projects through the Fraser Health Facebook, Twitter and Instagram channels.