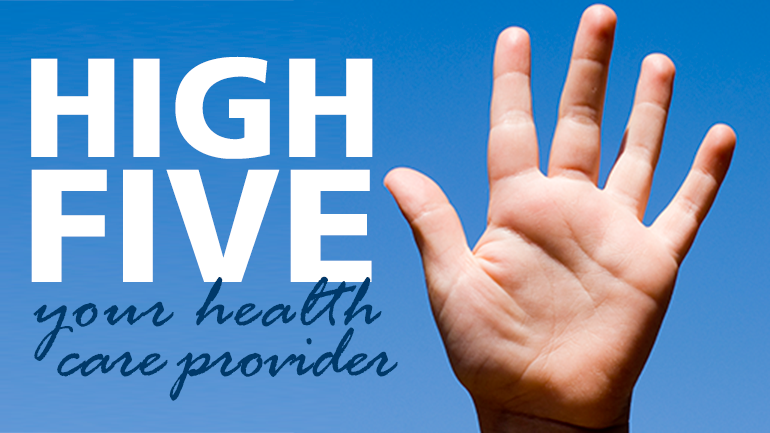 This week's high fives go to our amazing people at Burnaby, Surrey Memorial, Abbotsford Regional and Peach Arch Hospitals.
Want to send a high five to your health care provider or Fraser Health team member? Leave a comment below or email feedback@fraserhealth.ca.
For Burnaby Hospital
It's impossible to find words that would sufficiently express my gratitude for the care I received from nurses and doctors in emergency and on the ward.
They are exemplary human beings. The care that I was provided could only be given by [these] warm and compassionate people.
They saved my life and I'm in awe for the care I received.
Most grateful and thank you!
---
For Surrey Memorial Hospital
I just want to give my sincerest thank you to the team at Surrey Memorial Hospital's Pediatric Emergency Department. We have always had the most amazing care from all the nurses and doctors there.
Going to the hospital with your child never becomes easy. What does make the whole scenario better is the absolute best care we were given at Surrey Memorial Hospital. The nurses treat my daughter well and are gentle and kind. The nurses talk to her through the whole process (about princesses - her favorite!) and help her get through it all.
I am so thankful for this resource in our community, and how we are taken seriously. We appreciate the fact that triage always listens and gets our daughter looked at as soon as possible.
Thank you all so much over the past few years … I hope you know how much your kindness and expertise means to our whole family.
---
For Abbotsford Regional Hospital
My husband is overwhelmed with all of the great care he received throughout his stay at Abbotsford Regional Hospital. Thank you to everyone [involved] from the ambulance drivers who brought him to the hospital, to the staff who assisted right [through] to his discharge from the hospital.
You all made a difficult situation as comfortable as possible. As a retired Fraser Health employee, I second that. I cannot think of one thing that could have made our time there any more comfortable. We rate the [experience] a 10 out of 10!
---
For Peace Arch Hospital
I just wanted to let you know how impressed we were with Mickey. We went to see my uncle in the Emergency Department and Mickey was his care nurse. Mickey was exceptional. He was caring, informative and had great bedside manner. Please pass on our thank you to Mickey.
Much appreciated.