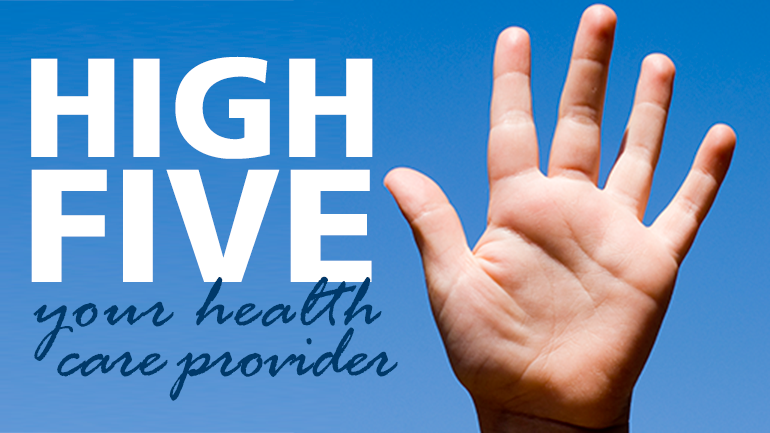 This week's high fives go to our amazing people at Abbotsford Regional, Eagle Ridge and Peace Arch Hospitals.
Want to send a high five to your health care provider or Fraser Health team member? Leave a comment below or email feedback@fraserhealth.ca.
For Abbotsford Regional Hospital
My husband has just been discharged and he was overwhelmed with all of the great care he received throughout his stay.
Thank you to everyone, from the ambulance drivers who brought him into the emergency department right through to the staff who were assisting him as he was being discharged from the hospital. You all made a difficult situation as comfortable as possible.
As a retired Fraser Health employee, I can't think of one thing that could have made our time there any more comfortable. We rate it as a 10 out of 10!
---
For Eagle Ridge Hospital
I brought my son to the Eagle Ridge Emergency department on Sunday.
I want to thank all the nurses and the whole team for their great help, support and friendliness. It was my first experience in this hospital and I was very happy and satisfied.
Special thank to the doctor who helped my son as she was professional and friendly. Please once again pass my thanks and appreciation to her.
Wish everyone all the best. I hope we can see this quality of health care everywhere in the world. Everyone deserve this.
---
For Peace Arch Hospital
I had an MRI at Peace Arch Hospital at 2 a.m. The two staff members were amazing! They were warm, friendly, professional and welcoming. I did not expect an MRI in the middle of the night to be pleasant.
These two employees went above and beyond to make sure I was comfortable and relaxed! They are great ambassadors for your hospital.