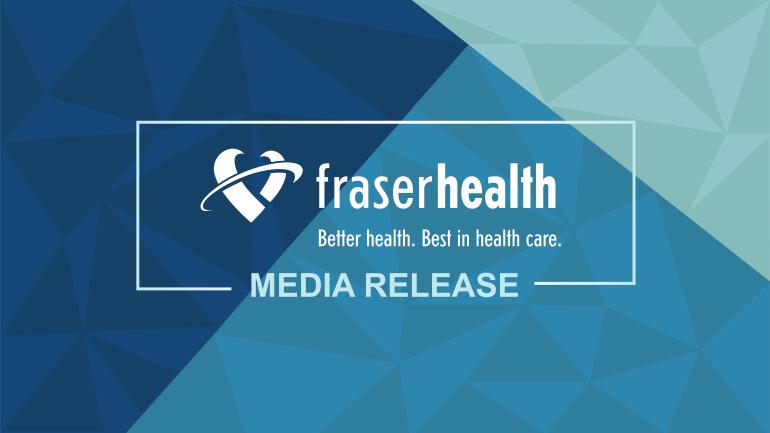 The summer season brings opportunities to get outside and enjoy what the season has to offer, and we can do it in a way that will keep our loved ones and communities safe.
"The summer season brings socializing with a small group of friends, and enjoying the outdoors to rest and recharge. However, COVID-19 remains present in our communities and we should do our part to ensure our enjoyment of the season does not overshadow the measures we must take to reduce transmission of COVID-19 in our communities," said Dr. Alex Choi, Fraser Health medical health officer. "This means staying home when you're sick, maintaining appropriate physical distance, washing your hands frequently, and keeping your social circle small and consistent."
Fraser Health's new Healthy Summer Guide shares a number of ways you can have a healthy, active and safe summer while minimizing your risk of COVID-19 transmission:
Eat fresh, grow fresh and live fresh: Summer brings a bounty of fresh, local produce perfect for a BBQ or family meal. Try lightening up your dishes and teach kids about balancing summer treats with healthy eats. The Guide shares how you can plant your own garden and make healthy summer dishes. When out grocery shopping for your summer BBQ, be mindful of physical distancing and good hand hygiene practices to help prevent transmission of COVID-19 in these environments. Enjoy a meal at your local restaurant, but please remain seated at the table assigned to you, do not table hop and limit your group to six or less people.
Get outside: Warm summer weather is a perfect time to get outside and be active. Visit local destinations where you can hike, bike and walk while enjoying nature and remaining physically distant from others.
Travel smart: Before you travel this summer, check to make sure towns, communities and regions are ready to welcome you, including the specific local businesses you wish to visit. Current conditions and travel advisories for BC Ferries or roads can be found on the BC Ferries or Drive BC webpages. Be prepared to practice the same precautions while away as you would at home while being respectful of any particular precautions your destination may request. The Provincial Health Officer's order on gatherings and events limits the number of people in vacation accommodations, including for house, cabin, yurt and boat rentals, and hotel rooms. Plan and confirm your bookings before you go.
Be safe: Sun brings out the fun, but don't let sunburns or stomach aches, illnesses or injuries throw shade on your summer. Read up on sun and heat safety tips that can help you beat the heat in the warmer weather, bike and swim safely, and be aware of window safety for children to help prevent falls from windows and balconies. If you do need access to health care services, call 8-1-1, visit your local urgent and primary care centre, see your GP, or visit your pharmacist. If you need emergency care, please call 9-1-1 or visit the emergency department.
This summer is a critical time during the COVID-19 pandemic and we continue to rely on everyone to do their part to bend the curve. Fraser Health Public Health teams continue to follow up with all confirmed COVID-19 cases and contacts. Each one of us must stay committed to taking measures we know will reduce the risk of COVID-19 transmission in our communities. Whether travelling locally or staying close to home, the same precautions apply:
Stay home if you're ill
Wash your hands or use hand sanitizer often
Cover your coughs and sneezes
Practice physical distancing
Wear a mask if you cannot keep a safe distance from others
Keep your social circle small and consistent.
For information and tips on having a healthy summer, please visit fraserhealth.ca/summer.
For information you can trust about COVID-19, please visit fraserhealth.ca/covid19.
For media inquiries, please contact:
media@fraserhealth.ca