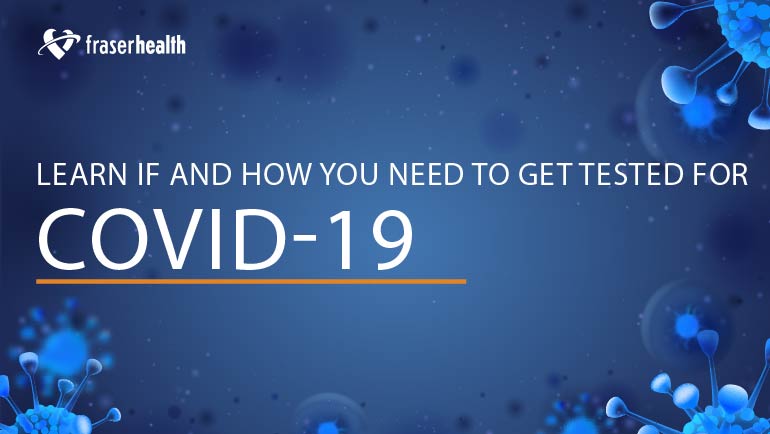 Here's what you need to know about COVID-19 testing
Learn if and how you need to get tested for COVID-19.
Do I need to get tested?
Testing is available for all who need it but not everyone requires a test. If you have no symptoms, mild symptoms or you are a returning traveller self-isolating at home, you do not require a test.
Those who have severe illness, require hospitalization, are residents of long-term care facilities or are health care workers will continue to be tested. We will also test anyone part of an active investigation or outbreak cluster.
If you think you may have COVID-19, use the BC COVID-19 Symptom Self-Assessment Tool. This tool will help determine whether you may need further assessment or testing for COVID-19. You can complete this assessment for yourself, or on behalf of someone else, if they are unable to.
What happens at a COVID-19 assessment appointment?
If you are symptomatic and are a member of a group requiring testing, at your appointment, the doctor will do an assessment and exposure history. If you need testing, they will swab your nose or throat. Note: It is important to call your doctor's office in advance to allow the office to prepare for your visit in the following situations.
Testing procedure
Your swab is then sent to the Provincial Health Laboratory at the BC Centre for Disease Control (BCCDC) and designated sites for testing. It could take up to 96 hours (4 days) for your results to be ready. Self-isolate until you receive a negative test result. Learn more about what to do while waiting test results at the BCCDC website.
Getting your COVID-19 test results
If you've tested positive, your local health authority is informed and they will directly contact you. If you've tested negative, the BC Centre for Disease Control (BCCDC) Hotline will provide your results and answer questions.
To get your results, you must call the BCCDC Hotline at 1-833-707-2792. Please wait 96 hours (4 days) before calling in for results. The hotline gives the public quick access to results, freeing health workers to care for others.