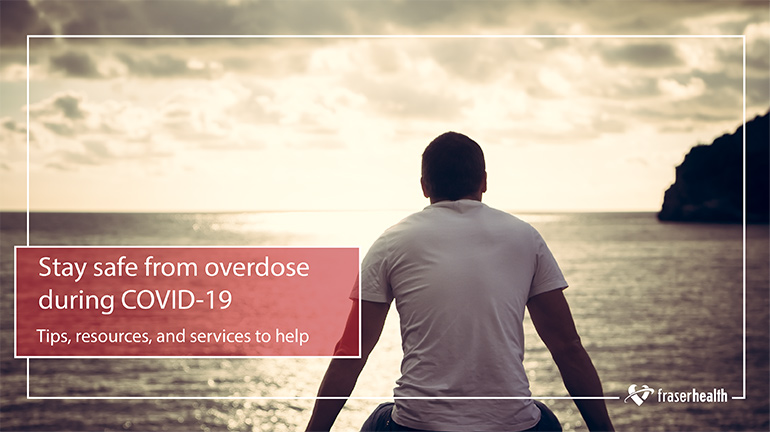 We know that COVID-19 has created a lot of anxiety and uncertainty about how to access health services, including harm reduction services.
With the emergence of this new public health emergency, we have seen an increase in fatal and non-fatal drug overdoses. Now more than ever we recognize how important it is to look out for one another, including those in our communities who use substances and are at risk of overdose.
Here are some tips and resources to help prevent overdoses if you or your loved one is using illicit substances:
Do not use alone; where possible, practice physical distancing of two meters between you and people who are not in your intimate support group
Our supervised consumption sites and overdose prevention sites are still open. These sites have precautions in place to keep you safe from COVID-19. Find an overdose prevention site or supervised consumption site. Call ahead for hours
Carry a naloxone kit and know how to use it. Here's where you can get a kit
For people struggling with opioid use, our Opioid Agonist Treatment clinics are open and can provide comprehensive care and facilitate connections to other community supports
Do not share injecting or smoking equipment
Download and use the Lifeguard App, a tool to directly link people who use substances to emergency responders if an overdose occurs
Check out BC Centre for Disease Control tips on harm reduction and overdose prevention during COVID-19; including how to practice safer drug use, how to buddy up and keep a safe physical distance at the same time, and what to do if you are quarantined or in isolation
Talk to your doctor or nurse practitioner about how to access prescription medications to reduce overdose risk and prevent withdrawal. Click here for more info
If you are concerned about a loved one's substance use, reach out and have a conversation. We know it can be difficult, here is a guide and video with tips to help
The Ministry of Mental Health and Addictions has information on overdose prevention and COVID-19
For more information on preventing overdoses, go to fraserhealth.ca/overdose.