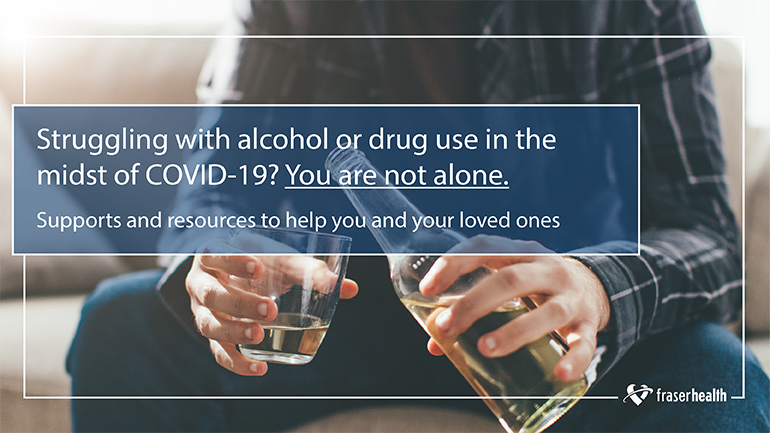 Supports and resources to help you and your loved ones
COVID-19 has contributed to a great deal of stress for many people as we have had to change how we live our day-to-day lives, physically distance from others and re-think how many of us access services.
Fraser Health's substance use support services are still open and available for anyone who needs them. While we now offer more services virtually and have changed some of our processes to allow for safe physical distancing, we are still here for you. We know that for people living with alcohol or drug use disorders, or with loved ones who do, the stress of COVID-19 can have an even greater negative impact. The increased time at home can sometimes lead to feelings of anxiety and isolation, all factors that can contribute to turning to substances to cope.
Here are some ideas to help you and your loved ones manage substance use challenges at this time:
Access support and resources virtually
The BC Centre for Substance Use has compiled a list of resources for people who use substances, including harm reduction tips on safer drug use, how to isolate safely and advice for managing alcohol consumption and withdrawal.
Fraser Health has created a list of online video and information supports for clients and families on preventing and managing substance use relapse, including links to online support groups.
The Ministry of Mental Health and Addictions has a list of resources for mental health supports for social distancing and self-isolation.


Access one of our Community Substance Use Services Clinics
Community substance use services provides individual, couple, family and group counselling for anyone who is open to exploring their relationship to substances as well as for those impacted by a family member's substance use. Concerns can be related to any mood-altering substance, such as alcohol, street drugs, club drugs, inhalants, prescription and over-the-counter drugs. To be referred or for more information, go here.
You can also be connected to services through the provincial drug and alcohol referral service: 1-800-663-1441 (or 604-660-9382).


If you are concerned about a loved one's substance use, reach out and have a conversation
We know it can be difficult to talk about substance use. Here is a guide and video with tips to help.


If you need to talk to someone, call the Fraser Health Crisis Line
It is available 24 hours a day, seven days a week. Call (604) 951-8855 or toll-free 1 (877) 820-7444.